Event: Conference: Maritime Geostrategic Thinking for Ireland
Friday, 09 March 2012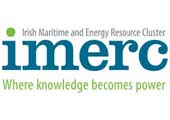 March 9th @ National Maritime College of Ireland

Full agenda and Registration Form
Admission is free.
Enquiries to admin@imerc.ie

Irish Maritime and Energy Resource Cluster (IMERC) is hosting the inaugural IMERC Conference on Maritime Geostrategic Thinking for Ireland.

With key addresses from Minister Simon Coveney, Minister for Agriculture, Marine and Food and Glenn Murphy of the IMDO, and featuring speakers Commodore Mellett from the Irish Naval Service and Anthony Gurnee from Ardmore Shipping.
Conference Agenda
Session 1: Fighting recession by supporting an export led economy
Ms Helen Noble Head of Maritime Law, Matheson Ormsby and Prentice
Mr Brendan Ryan Vice President of Global Accounts, Agility Global Logistics
Session 2: Building maritime security capability in support of economic development
Commodore Mark Mellett Flag Officer, Irish Naval Service
Prof Michael Mulqueen Head of Department of Politics, History, Media and Communication, Liverpool Hope University
Session 3: Future of Maritime Ireland
Mr Anthony Gurnee Founder and CEO, Ardmore Shipping
Prof D John Mangan Professor of Marine Transport and Logistics, University of Newcastle
Session 4: IMERC Industry Engagement
Dr Val Cummins Director, IMERC