Minister Launches Publication to Further Widen CIT Access to Education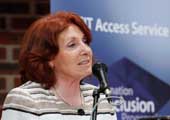 Published on: Wednesday, 14 March 2012
On Friday 16th March, Kathleen Lynch, Minister of State, Department of Health and Department of Justice, Equality & Defence, will formally launch CIT Access Service's new publication: "Access the Beginning of Your Future".
Aimed at prospective students, parents, guidance counsellors, this free booklet, compiled by Barbara Hempel, comprises personal stories from CIT students who have used the CIT Access Service.
Deirdre Creedon, CIT Access Officer said: "This publication highlights the real stories and experiences of CIT students and their journey through their academic careers. It offers an opportunity to understand the commitment and determination needed by the students to progress and succeed in their chosen field. We hope that the publication will inspire and motivate prospective students to aim high and set goals."
The Access and Disability Service provides support to ensure that all students have equal access to education, according to Laura O'Rourke, CIT Disability Support Officer, "The one thing that is evident throughout is that each student has a unique experience and faces unique individual challenges along the way – socially, academically and /or personally."

Students who have used the Access Service while studying in CIT were invited to contribute to the publication. Barbara Hempel who produced the report said: "It was a pleasure hearing the stories of the students and hearing how they worked so hard to achieve their goal." She hopes the book and the student stories will "act as a catalyst for students both mature and second level who have thoughts of entering CIT to complete their third level education."
'Even though I went to what is termed a disadvantaged school it does not mean I am disadvantaged, the school may have a label but I do not", said Adam Crean, a First Year CIT Social Care student, "I refused to give up on myself even though my friends would laugh when I would say I want to go to college. All I can say is now I am the one laughing as I am now a first year in Social Care under the Access Programme and loving every minute".
CIT Access Service is committed to ensuring that education is a basic right, not a privilege. The Service believes that everybody is entitled to equal access and equal opportunities in relation to their lives. It is committed to empowering people to take control of their own education and long-term life chances.
The various programme operated by the Access Service delivers a range of pre-entry, entry and post entry support programmes to achieve its aims including Mature Student Service; Linked Schools Service; Science for Life Programme; Disability Support Service and Assistive Technologies Support.
CIT Access Service's publication: "Access the Beginning of Your Future" is available for free by ringing 021-4335138 or to download from www.cit.ie/accesstoeducation

For more information on the services of CIT's Access Office visit www.cit.ie/accesstoeducation or contact Deirdre Creedon, Access Officer - deirdre.creedon@cit.ie or telephone 021-4335140.