Event: Open Day - Art Therapy Department
Friday, 30 March 2012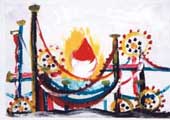 The Open Day programme offers an opportunity for you to find out more about:
MA in Art Therapy
Principles of Art Therapy Certificate
Arts in Group Facilitation Certificate
Arts, Participation and Development in Global Education
Art Therapy Summer School
Art Therapy Introductory Weekends
The Open Day programme runs in the CIT Crawford College of Art & Design, Sullivan's Quay campus. It commences at 1.30pm and ends at 4.45pm. Participants have the opportunity to attend introductory talks on training and practice, case presentations and an information session when they may meet with College Staff to clarify individual queries.
Please note venue - Department of Art Therapy & Continuing Visual Education, Sullivan's Quay (former Tax Office).
Further info www.artincontext.eu
T: 021 4335246