Event: CIT to Host EU Passive House Course
Monday, 02 April 2012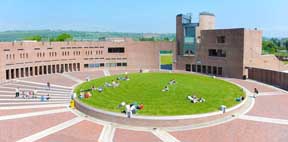 Certified Passive House Designers Course begins Monday 2nd April
The Department of Architecture at CIT sets the environment and sustainable practices at the core of its educational and professional outreach mission.
In December 2011 - January 2012, the first group of lecturers from Architecture and Construction participated in the Passive House Designers Training to become certified Designers/Consultants. The second group of CIT staff from other departments will participate in the training in April 2012. This Training is provided by the Passive House Academy (of Ireland) allied to the International Passive House Institute in Germany.
As part of the first training, CIT and PHA held an open night for the public to disseminate Passive House Conpepts in January 2012.

The Passive House Concept was developed in Germany. It is composed of high performance planning/design to reduce use of energy supported by building and environmental physics that is verifiable.
The Passive House – Constructing the Future
CIT to Host EU Passive House Course
Places are limited, booking early is highly recommended to avoid disappointment. For further information on the course including a comprehensive course overview and registration details please go to www.passivehouseacademy.com alternatively email news@passivehouseacademy.com

Ireland is fast becoming a global centre for passive house design and construction. That is according to the Passive House Academy's Tomas O'Leary in announcing details of the forthcoming Certified Passive House Designers Course at CIT begins on Monday 2 April 2012.
"Driven by the impacts of legislation for the built environment increasing the energy performance of Ireland's new and existing building stock is bringing about a fundamental rethink in the way we design, construct and operate buildings. Developed by the Passive House Institute, the passive house standard is now recognized world wide as a leading benchmark for building energy performance and is fast becoming the preferred choice in providing high quality, high efficiency, dynamic and cost effective solutions for Irish home owners and businesses," added O'Leary.
To promote the implementation of this advanced standard the European Union funded the CEPH project that today ensures the delivery of robust training and certification for Passive House Designers across all EU member states and beyond.
The course at CIT will be delivered by internationally acclaimed experts from the Passive House Academy and is aimed at building professionals, architects, mechanical, civil, structural and electrical engineers, the construction industry, building contractors, service and product suppliers, energy and environmental consultants, housing associations, academic and research organizations. Individuals passing the examination are registered by the Passive House Institute and can use associated materials to professionally market their services.

Please note: Grants are available for persons who are currently unemployed, for further details contact your local employment service officer and enquire about the TESG and EGF funding schemes.