Event: Train with Your Sporting Hero at CIT
Saturday, 31 March 2012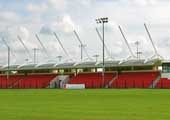 Ever fancied playing hurling with an All-Ireland winning hurler or having a kick about with a Cork City soccer player? Well, on Saturday 31st March, "Train With Your Sporting Heroes" will take place at CIT's Sports grounds on its Bishopstown Campus.

The event is running as part of CIT's involvement in the annual Cork Lifelong Learning Festival. Sporting heroes from Cork and Kerry will be on hand to teach young people sports skills in GAA, Soccer and Athletics. Children aged 8- 12 years will be trained from 11am to noon and from noon to 1pm. The event is organised by CIT's Access Service, Schools Liaison Office, and Sports Department.

The confirmed list of sporting heroes includes Jimmy Barry Murphy, Eimear O'Sullivan, Charlotte Kearney, Kalen Spillane, Jenny Duffy, Juliet Murphy, Elaine O'Riordan, Nollaig Cleary, Marian Heffernan, Lizzie Lee, Rory O'Sullivan, Mark Griffin; and Kevin Hallissey.
To book a place, and to receive a registration pack, please contact the relevant department:

Soccer - CIT Access Service T: 021-4335138
Gaelic Football (boys) - Schools Liaison
Office T: 021-4335397
Gaelic Football (girls)- Access Service T: 021-4335138
Hurling- Schools Liaison Office T: 021-4335397
Camogie- Access Service T: 021-4335138
Athletics - School Liaison Office T: 021-4335397
A parent or guardian must be present during registration. There will be light refreshments on site if parents/guardians wish to remain on the campus.

For any further queries, please contact Louise Bermingham on 021 - 4335139,
Mervyn O'Mahony on 021 - 4335547 or Elaine Dennehy on 021 - 4335141.