More Good News for Kieran O'Callaghan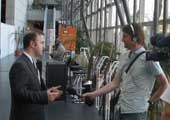 Published on: Thursday, 26 April 2012
First Prize in the NCBI Inclusive Technology Showcase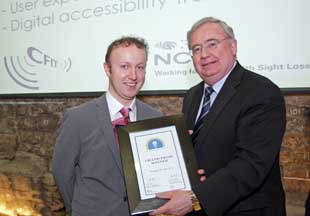 Kieran O'Callaghan has been presented with First Prize and a cash prize of €3,000 for his Enablement Products , AquaEye and VisionRE, by Minister Pat Rabbitte TD, Minister for Communications, Energy and Natural Resources at the NCBI Inclusive Technology Showcase - Wood Quay, Dublin on the 26th April 2012.
| | |
| --- | --- |
| | |
Nine designers of inclusive technologies battled against each other in an exhibition-style showcase.

The Mission is to promote digital inclusion in Ireland, with a specific focus on vision and vision loss. Design entries comprised technologies which were designed in an inclusive way and those which specifically address the needs of users who are blind or have a vision impairment.

The finalists included:
• AutonoMi: A personal security alarm for older people living independently
• VisionRE: A navigation aid for detecting obstacles while walking
• Aquaeye: A swimming aid for people with a vision impairment
• An accessible version of the RTE Player
• RowMate Access: A Smartphone App which allows vision impaired rowers to train independently using an indoor rowing machine
• HomeSense: A system which alerts the user to potential hazards within the home, such as open cupboard or appliance doors, allowing safe and independent navigation around the house
• ABAIR: A prototype Irish Language Reader with ABAIR Synthetic Voices incorporated into digital talking books (using the DAISY format)
• Voices as Gaeilge for PC and Mac: Software which can be installed on Mac OS X (& later on PC) as an additional screenreading voice, speaking in Irish
• LookAround App: A Smartphone App which announces the current street, city, cross street, heading and nearby points of interest
• Storybud: A website of stories for children or adults which can be easily read or listened to
--------------------------------------------------------------------------------------------------------------------------
Winner and European Student Innovator of the Year 2012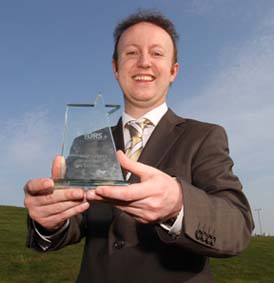 On the 28th March, the European Innovation Finals Innovact 2012 took place in Reims, France. This is the first time that the accolade of First Place in European Innovation has been won outright by an Irish student. Kieran received a cheque for €5,000 as part of his prize. He is currently reading for his doctorate in Machine Vision Systems and Human Machine Interfaces at CIT. Kieran's primary undergraduate degree is in Mechanical Engineering (First Class Honours).
The Minister for Research and Innovation, Seán Sherlock, TD, expressed his delight at the news. "This is an amazing achievement for Kieran, CIT, and Ireland. Kieran is a talented student and researcher and this award is a testament to his dedication and the efforts of those who helped get him where he is today."

CIT President, Dr Brendan Murphy welcomed the announcement and said, "We are delighted with Kieran's success – he is a great example of the vibrant, innovative, eco system fostered here in CIT."
First Place European Laureate of Innovation 2012
Kieran O'Callaghan VisionRE
" Real Time Interactive Obstacle Detection and Navigation Aid for the Visually Impaired "
Cork Institute of Technology
Ireland
Second Place
Thibaud Arnault et al.
WebShell
" A New Computing Language to allow Developers to make Web and Mobile Applications in 10 minutes instead of 10 days "
University of Epita
France
Third Place
Modeo Salvatore et al.
MRS - Material Recovery System
" Electromechanical System to Select and Salvage the Waste of the Empty Room (Thermal Evaporation) to maintain Evaporation ".
University of Salento
Italy
| | |
| --- | --- |
| | Kieran wishes to thank all in CIT who have aided his academic progression to this unprecedented honour for an Irish student and most particularly his PhD Supervisor Dr Michael J. O'Mahony. |
| Kieran presented his project work and prototype Real Time Interactive Obstacle Detection and Navigation Aid for the Visually Impaired on a number of occasions to a wide range of international entrepreneurs, industrialists and academics over the past two days. From hundreds of international entries, 42 projects were shortlisted international finalists from 28 European countries. | |
Project:
From consulting and working with visual impaired individuals through both the Irish Guide Dogs for the Blind and the National Council for the Blind Ireland, Kieran noticed that visually impaired individuals had great difficulty in navigating around doors, people, over steps and detecting obstacles in general. Kieran was greatly impressed with and energised by the need to design and develop a product to help improve the independence of the visually impaired and give them a greater level of confidence when walking.

Kieran's developing VisionRETM device segments and classifies 3D objects/obstacles in real-time and presents the 3D information to the user in a more intuitive manner via multimodal electro-tactile, vibro-tactile and audio Human Machine Interfaces. The device identifies the presence, description and distance of objects and conveys that information to the user in a simple form. This kind of information can be used to allow the user to perform simple functions such as avoid obstacles as well as giving the user the ability to recognise their surroundings. This latter aspect of the device allows the vision impaired person to broaden their routines and be more independent.

The highly innovated Tongue Display Unit, developed by Kieran, has been designed and operates as a subject control and information system – the subject tongue effectively acts as a computer mouse, enabling the visually impaired user to select and control focus, range and breadth of determined Time of Flight vision data. The segmented visual information from the TOF camera is coded into electro-tactile pulses and presented to the user on the 64 channel electro-tactile tongue display unit designed by the author. The tongue is ideally suited to receive sensory information via electro-stimulation. The saliva in the mouth acts as an electrolyte which provides excellent electrical conductivity between the tongue and stimulator.

Recent advances in Time of Flight (TOF) imaging technology have presented new opportunities to develop improved sensory substitution systems for compensation of visual sensory loss. In sensory substitution, information from an artificial receptor/sensor is relayed to the brain via a Human Machine Interface. The brain is able to utilise this information as a substitute for what is usually transmitted from an intact sense organ such as the eye. EEG subject testing of the developing VisionRE TM device has demonstrated evoked potentials detected in the visual cortex. The capability for plasticity visual development/learning in the visually impaired points to a genuinely world class and life changing product for the visually impaired.

The Vision Research Enterprises - VisionRETM - name reflects Kieran's main technology development/research interests, commercial applications and entrepreneurial ethos.

There are over 200,000 visual impaired individuals in Ireland, 2.5 million in the UK, 15.5 million in Europe and 15.5 million in North America (WHO Report). The global figures are extremely high and are growing annually. Kieran's developing VisionRETM product is driven by both societal and marketplace need.

Kieran's Vision Research Enterprises website may be accessed at: http://visionre.cit.ie/