Sport News Update ... LeisureWorld Rebel Run 10km Road Race Launch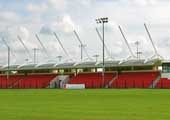 Published on: Tuesday, 24 April 2012
LeisureWorld Rebel Run 10km Road Race Launch

Sunday, 21 October 2012

Entries cost €15 and can be made online at www.rebelrun.ie.

Postal entries are also available by downloading an entry form from the same website.

Closing date for entries 20th October 2012

Entries are open to persons aged 18 and over.
Detailed information of launch

CIT hosts FAI Summer Soccer Camps in July

The first camp, a girls' only camp, will run from July 16th to 20th and the second, a mixed (mainstream) camp is on from July 23rd to 27th. The camp begins each day at 10.30am and finishes at 3pm. More details

CUSAI Intercollegiate Event of Year for 2011

The Canoe Intervarsities hosted by CIT and UCC Canoeing Clubs from 18-20th February 2011 has been awarded the title of CUSAI Intercollegiate Event of Year for 2011.

The winners had to fight off some stiff competition from the following shortlist-


| | |
| --- | --- |
| Organising Committee | Intercollegiate Event |
| CIT & UCC Canoeing Club | Canoe Intervarsities |
| UCC Tennis Club | Tennis Intervarsities |
| NUIG Hockey Club | Hockey Intervarsities |
| Dundalk IT Archery Club | Outdoor Archery Competition |
| DIT Athletics Club | Schools' and Universities Cross Country Championships |
| UCD Cycling Club | All Ireland Intervarsity Time Trial and Road Race Championships |

The event consisted of three action packed days, with fourteen colleges taking part in four different events in three different locations- Polo (held at National Rowing Centre, Farran Woods ), Whitewater Race (held at Upper Bandon, Dunmanway), Long Distance (at National Rowing Centre, Farran Woods) and Freestyle (at the Sluice, River Lee).

The presentation of the Intercollegiate Event of the Year Cup will be made during the CUSAI Networking Event dinner on the 24th May 2012.

Irish Universities Track and Field Championships

The weekend of the 22nd April 2012 saw our student athletes in action once again as they competed in Athlone at the Irish Universities Track and Field Championships (IUAA) Track and Field Championships. Please click here for details


Sport News and Bursaries Sept - Dec 2011 pdf download

Basketball

March 2012
CIT Basketball Success at the Irish Colleges Basketball League Finals 2011/12
Congratulations to the CIT Men's & Women's Basketball teams who had a clean sweep at the leagues finals on Wednesday 14th of March.

The men's team broke free of I.T Blanchardstown in the last quarter to win the Championship Cup by 9 points.
The ladies team looking to retain their title from last year faced IT Carlow. For the 2nd year running the ladies lead the way in style reclaiming their title by 19 points.

Both teams will now look to the Intervarsities on Easter weekend where they face tough competition in a bid to add to their league titles.

February 2012
The CIT ladies basketball team travelled to Dublin to play out their final pool game in the Irish Colleges Basketball League. They returned victorious beating St. Patrick's by a narrow margin of 7 points.


Capt Darren O'Sullivan above and Capt Rebecca Lyall below.

Rugby - CIT wins Division 2 all ireland final




On the 23rd March 2012, CIT Women's Rugby team took on the might of DCU in the Division 2 All-Ireland final in the Maradyke last Friday. With the weather conditions in favour of running rugby, both teams did not disappoint. CIT got off to a flying start, with a try inside the first ten minutes through Sinead O' Connor. This was to be short-lived as DCU came storming back with two quick tries in response to leave the score 12-5.

CIT dug deep and through their inspirational captain Maureen O'Sullivan were right back into the game. Two more tries from Sinead O' Connor in what can only be described as a 'Roy of The Rovers' performance by the Tralee flyer.

CIT started their season strong and finished even stronger. CIT finished on a strong note with Grace Sweetnam scoring a try to close out the game as a contest. The girls lifted the trophy winning on a score line of CIT 31 DCU 19.
It is a credit to the Women's team and only what they deserve as participation numbers at a 6year high for Rugby. Congratulations to the team and to member of staff Dave Kingston as forwards coach, and to Brian O'Dowd and his charges.


Munster U'17 Select Side

January
CIT had the privilege of hosting a Munster U.17's vs. Sweden U.18's national side. This was a trial game for next year's Munster U.18's clubs side. The game proved very beneficial to both parties and was a great advertisement for CIT facilities on an international scale. The game ended in a 20-20 draw and with some great stars of the future making their stamp on the game. There was a crowd of about 200 to 300 hundred in attendance.

GAA – Football

Success at the third time of asking came the way of the way of the Institute's Intermediate Footballers 15th March when they beat GMIT 1:14 to 1:09 in the Higher Education All Ireland Intermediate Football Championship Final. Played in University Limerick a large crowd were treated to a fine spectacle of football where the CIT team kept up their impressive championship form to see off a spirited Galway side.

Having been beaten in 2010 and reached the final again last year, great credit must go to this team who regrouped this year to capture a trophy last won by CIT in 2006. Indeed current selector and coach Billy O Connor was a member of that '06 winning side and his co selector and fellow trainer was coach to the CIT All Ireland Winning Junior Sides of 2002 and 2003. The third member of the selection committee was CIT Stalwart Liam Hodnett and all three can take great credit for this teams progression. The team was captained by Glenflesk man Damien Moynihan who is currently studying 3rd year Transport Management and Automobile Engineering.

GAA - Hurling

Cork County Senior Hurling Championship- 5th April 2012
The Institute's Senior Hurling team had a comprehensive win over Muskerry in the 2nd round of the Cork County Senior Hurling Championship.

Played at the Sarsfield GAA grounds, CIT led at half time 2.08 to 0.2 with the two goals coming from Michael O'Sullivan and Steven Corcoran as they ran out comfortable winners on a score line of 2.18 to 0.6.

The draw for the 3rd round will be made on Sunday evening and is scheduled for April 24th.





Soccer

The men's College A and B team capped off a fantastic week of college soccer for CIT in Sligo on the 8th March 2012 after the ladies team won promotion to the Premier Division last week.

The College B team triumphed in the CFAI B Cup with a wonderful 2-1 victory over red hot favourites Colaiste Ide to retain the cup which they were also victorious in last year. Gerard Kelleher and Kevin Healy grabbed the all-important goals. The lads produced an excellent all round team performance and fully deserved their victory.

The College A team competed the CFAI Umbro Plate with a determined and aggressive GMIT – Galway side. Their opponents made it very difficult for our lads to build any momentum in the first half that ended 0-0. But CIT upped the tempo in the 2nd half and William Heffernan of 3rd year Recreation and Leisure completed a hat-trick of the highest standard in a game that finished 3-0.

Our ladies team contested a play-off game with IT Athlone in Carlow with the prize of playing Premier Division football for the winners next year. CIT dominated this game and one goal from bursary recipient Emma Coughlan was enough to secure an important win for CIT ladies soccer.

The CIT Senior Munster Senior League team received the team of the month. The team have won their last 7 games in a row, scoring 19 goals and conceding just 4 leaving them 2 points off the top of the league with a game in hand.

Bursary recipient Wesley Tong received MSL Player of the Week for his fantastic performance in CIT's 5-0 win over Ballincollig in the Pop Kelleher Cup.

Southside & District Award

Congratulations to 4th Year Business Studies Student Denise Luby, Captain of CIT Camogie Team, winners of the Purcell Shield 2012, who recently received the Southside and District Sports Award for February in recognition of her achievements. Denise's performance on the day scoring 3:05 ensured her selection on the 2012 Higher Education Purcell All Stars and saw her side score an emphatic victory over Athlone Institute of Technology. Denise plays her club Camogie with Glen Rovers.
The award was presented at a function at Cork International Airport Hotel on the 12th March which was attended by Denise's family, CIT Team mates, a host of dignitaries from the sporting, media, political and community circle. The event was co-sponsored by Red FM, Gerald McCarthy Trophies, and the Cork International Airport Hotel.

World Kendo Championships

CIT Student Robin Deegan, PhD in Computing, who has for the seventh year running the honour of being selected to represent Ireland at the World Kendo Championships taking place in Novarra, Italy in May 2012.