Event: RMS Titanic: The Lord Mayor's Centenary Commemoration at CIT Blackrock Castle Observatory
Saturday, 14 April 2012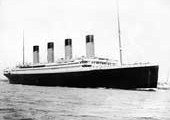 Take a trip to Cork Harbour in 1912 at CIT Blackrock Castle Observatory from 12:00 noon on Saturday April 14 2012 for the Lord Mayor's Commemoration of the RMS Titanic.
To honour the 100th anniversary of the Titanic's journey from Cork Harbour, Cllr. Terry Shannon, the Lord Mayor of Cork is inviting the public to a free family-friendly day at Cork's Blackrock Castle. The popular tourist attraction will be transformed with musical and dramatic performances of the era staged within the Castle and courtyard.
Visitors to the 16th Century Cork Harbour landmark will go back in time viewing archival digital footage from both the Queenstown Story and Titanic Experience and see newsreels, photographs, archives and artefacts from the era. Visitors can also take a savoury trip back in time to enjoy the tastes of White Star Line themed food from the "galley kitchen" at the Castle Café.

The Castle courtyard will play host to a wide variety of entertainment: visitors will learn about the art of Celestial Navigation with Cork's Master Mariners, and families can build a boat with Narumi at maritime origami workshops. Visitors will hear the history of the world's second deepest harbour from Lady Kate, a 1912 time traveller, during tours of Blackrock Castle. Children will love the nautical themed performances from the Cork Circus and the Cobh Children's Theatre Titanic Diary performances.

Sounds of the era will play throughout the day with live performances by 'First Class' musicians, The Barrack St Band, Gary Baus Band and the CIT Cork School of Music Operatic Platform Society, and traditional music from 'Steerage' with Whacker & Jason, and Dr Fiasco on ragtime. The Castletown Kinneigh Church Choir, The Commodore Choir and the Midleton Choir will be joining forces on the day to perform "Titanic Remembered"
This event is free to the public and brought to CIT Blackrock Castle Observatory on behalf of the Cork City Council TEAM. Free parking is available riverside.
Related News Item









Location Map

Experience First Hand: what happens when a ship collides with an Iceberg

Participants in a unique exercise to be held at the National Maritime College of Ireland in Ringaskiddy on Saturday, April 21st will experience, first hand, what happens when a ship collides with an iceberg.

Designed as a team building exercise, the event will include a simulation experience where a passenger vessel collides with an iceberg and the passengers and crew have to be safely evacuated into the life rafts. They will board the life rafts in the environmental pool via a Marine Evacuation System and be rescued.

Places are limited and further information can be obtained from Annette.Coughlan@nmci.ie