Children Meet Their Sporting Heroes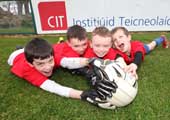 Published on: Saturday, 31 March 2012
The Annual CIT 'Train With Your Sporting Heroes' event took place at CIT's sports grounds on the Bishopstown Campus during Cork Lifelong Festival. Over 300 children, parents and CIT Recreation and Leisure students, attended on the day. The event was organised as part of CIT's involvement in the annual Cork Lifelong Learning Festival.
Sporting heroes were on hand to teach young people sports skills in GAA, Soccer and Athletics. Children aged 8- 12 years were trained from 11am to 1pm. The event was organised by CIT's Access Service, Schools Liaison Office, and Sports Department.
Sporting heroes present on the day included Jimmy Barry Murphy, Lorcan McLoughlin, Michael O' Sullivan, Martin Coleman, Eimear O'Sullivan, Charlotte Kearney, Juliet Murphy, Nollaig Cleary, Marian Heffernan, Lizzie Lee, Rory O'Sullivan, Mark Griffin, Laura MacMahon, Orla Cotter and Kevin Hallissey.