Event: Irish Universities Track and Field Championships
Saturday, 21 April 2012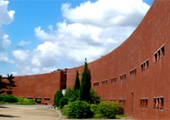 The weekend of the 21st April 2012 saw our student athletes in action once again as they competed in Athlone at the Irish Universities Track and Field Championships (IUAA). The men's team finished in an excellent 6th position in the Division 1 Championship keeping the might of TCD, UCC and QUB in their wake. The women's team triumphed in the Division 2 Championship.
Pride of place at the weekend went to our pentathlon athletes, David O'Brien, Martin O'Sullivan and Patricia Lange who won the coveted Combined Events Trophy and Thomas Houlihan who cleared 4.40m to win the men's pole vault.
Check out the action photos (thanks to our team photographer Jiri Thoma) below.

The Squad



The ladies team plus coaches


Thomas Houlihan (CE2) risking life and limb to claim bronze in the men's 110mH

William Hughes (Business 4) taking the baton from Robert Bennett (ELX1) in the Men's 4 by 400m final

Noreen Mackey (Grad, Biomed Science), cooling off during the women's 3000mSC


Roisin Mulcahy (DCE3), a picture of concentration at the beginning of the 4 by 400m relay final.

David O' Brien (39) and Martin O' Sullivan (44) (both ELX1) in action during the 1500m on their way to finishing 3rd and 4th respectively in the men's pentathlon


John Collins (Accounting 3) and Michael Pat O' Regan (DSE5) during the heats of the men's 4 by 400m

Eoin Murphy (Business 4) taking a break from the throwing events, anchors the men's 4 by 100m relay team to 7th position

Cathal Owens (Mets 3) powering away from the blocks at the beginning of the men's 4 by 400m relay final

Martina Fialova (Erasmus) on her way to 5th spot in the women's 3000m