Event: C R A W F O R D 1 0 0
Thursday, 24 May 2012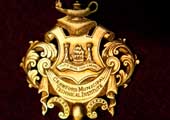 C R A W F O R D 1 0 0

Opening reception at 7pm Thursday, 24 May 2012

This exhibition will celebrate a century of education at Sharman Crawford Street in Cork.

A commemorative exhibition of selected work by staff at CIT Crawford College of Art and Design will be shown alongside archival material representing the many types of learning that have been promoted in the building.

A leading Irish curator, Cliodhna Shaffery, will mentor four recent graduates from CCAD in the curation of the show: Raphael Llewellyn, Lana Shuks, Tom Dalton and Tina Darb O'Sullivan.

The featured artists in the exhibition are: Julie Aldridge, Julian Campell, Colin Crotty, Sue Cunliffe, Jim Cummins, Jill Dennis, Jacinta Duff, Mark Ewart, Megan Eustace, Helen Farrell, Roger Hannam, Pamela Hardesty, Eileen Healy, Catherina Hearne, Catherine Hehir, Markus Jungmann, Breda Lynch, Roseanne Lynch, Hugh McCarthy, Ailbhe Ní Bhríain, Margaret O'Brien, Maureen O'Connor, Liam Rice, Geoff Steiner Scott and Padraig Trehy.

An exhibition of works by CIT CCAD staff, past and present

CIT Wandesford Quay Gallery
Exhibition runs from
24th May - 23rd June
The Key that Opened Many Doors to Education
In 1912, Arthur and Henry H. Hill, Architects, presented the key of the Crawford Municipal Technical Institute to Ald. James Simcox, Lord Mayor of Cork. One hundred years later, 11th May, 2012, in a ceremony at the Imperial Hotel, Canon James Simcox. grandson of Ald. Simcox, presented a replica key to Dr Barry O'Connor, Registrar and Vice President of Academic Affairs, CIT.

The key along with a robe worn by Lord Mayor Simcox will be included in a collection of memorabilia which will go on display to celebrate the centenary of the building which has been in constant use as a centre of education since it opened. The exhibition will be open for public viewing from the 24th May at CIT Wandesford Quay Gallery, in association with an exhibition of artwork from current and retired staff of the CIT Crawford College of Art & Design.

Back row (L-R) Local historian and Cllr Kieran McCarthy; Lord Mayor Cllr Terry Shannon; and Dr Barry O'Connor. Front row (L-R) Orla Flynn, Head, CIT Crawford College of Art & Design, Canon James Simcox with relatives Jennifer Flynnat; and Ann Sexton. Photo- Darragh Kane

Information on the centenary, and related historical events is available on crawford100

'Crawford 100' opens at the CIT Wandesford Quay Gallery Thursday, May 24th and runs until Sat 23 June. It will celebrate a century of education at Sharman Crawford St in Cork.

Cliodhna Shaffery, a leading Irish curator, will mentor four recent graduates from CCAD in the show: Raphael Llewellyn, Lana Shuks, Tom Dalton, and Tina Darb O'Sullivan.