CIT Cork School of Music is to offer Ireland's first Degree in Popular Music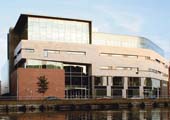 Published on: Tuesday, 15 May 2012
CIT Cork School of Music is to offer Ireland's first degree in popular music; the degree will provide all the skills and training necessary to successfully participate professionally in Ireland's vibrant pop and rock music industry.
The four-year, level-eight, degree course will start in Sept 2012, when twenty musicians will embark on a full-time course of study in Popular Music. Singers, guitarists, bassists, keyboard players and drummers, will study performance skills, ensemble, harmony and theory, song writing, music technology, music business & entrepreneurship alongside students on the established BMus degree course and the new BA in Theatre & Drama Studies.
CIT Cork School of Music is a world-class facility for performing arts education and is the most inclusive music college in the country. Alongside the highly successful BMus Degree it also delivers a BA in Theatre and Drama Studies, post-graduate degrees in performance, conducting, composition, music technology and research. CIT Cork School of Music is also home to 2,500 part-time music students, of all ages, in over 100 disciplines. The state-of-the-art city-centre campus allows this blend of creative talent to interact on a daily basis in a unique and inspiring atmosphere.
Application and entry for 2012 is strictly through the CIT Cork School of Music, in future years it will be on the CAO system. Email popularmusic@cit.ie for information and an application form to be received before Friday 8 June.