CIT Cork School of Music offers Ireland's first degree in Popular Music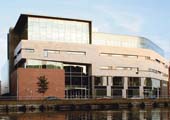 Published on: Thursday, 17 May 2012
CIT Cork School of Music is to offer Ireland's first degree in popular music; the degree will provide all the skills and training necessary to successfully participate professionally in Ireland's vibrant pop and rock music industry.

The Bachelor of Arts (Honours) in Popular Music will begin in September 2012, when twenty musicians will embark on a full-time course of study in Popular Music. Singers, guitarists, bassists, keyboard players and drummers, will study performance skills, ensemble, harmony and theory, song writing, music technology, music business & entrepreneurship alongside students on the established BMus degree course and the new BA in Theatre & Drama Studies.

CIT Cork School of Music is a world-class facility for performing arts education and is the most inclusive music college in the country. Alongside the highly successful BMus Degree it also delivers a BA in Theatre and Drama Studies, post-graduate degrees in performance, conducting, composition, music technology and research.
CIT Cork School of Music is also home to 2,500 part-time music students, of all ages, in over 100 disciplines. The state-of-the-art city-centre campus allows this blend of creative talent to interact on a daily basis in a unique and inspiring atmosphere.

Application and entry for 2012 is strictly through the CIT Cork School of Music, in future years it will be on the CAO system.
Email popularmusic@cit.ie for information and an application form to be received before Friday, 8th June.

Click here to download brochure