CIT invites applicants to new MSc programmes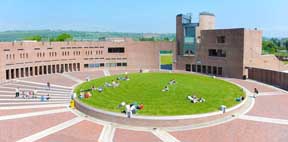 Published on: Tuesday, 17 July 2012
MSc in Construction Project Management
CIT's School of Building & Civil Engineering is pleased to announce a new MSc in Construction Project Management Programme, which is planned to commence in September 2012. This new full-time programme is aimed at Level 8 graduates from Built Environment programmes who wish to develop their skills and expertise in Construction Project Management. The programme has been designed to suit the distinctive and individual needs of the construction industry and offers excellent career opportunities for graduates as project managers or contract managers with design and construction companies; project management consultants and government agencies.
Project Management is a key professional skill required to deliver successful projects within the Construction Industry. Efficient and effective management of large-scale projects is essential in an increasingly competitive market. The material and approach in the MSc in Construction Project Management incorporates worldwide best practice from professional bodies and graduates of this programme will likely achieve relevant project management accreditation.
The course aims to prepare graduates for a successful career in project management and will offer graduates an in-depth education in defining and organising projects, comprehending the consequences of change, building and maintaining value-added processes for construction projects. The emphasis will be on developing both individual and group skills and learning to apply innovative approaches to problem-solving, people management and delivery of successful construction projects. The skills obtained will enable graduates to communicate with project stakeholders at all levels. This will allow students to master the organisational and human issues involved in managing projects within designated groups which will result in the production of individual and group presentations, reports and case analyses.
The course duration is over three semesters on a full-time basis, a research dissertation is completed by each student during Semester 3. Guest lecturers from industry with expertise in relevant areas will deliver lectures from time to time over the duration of the course. Site visits will be arranged in co-operation with local construction companies giving students the opportunity to analyse the practical application of the techniques and strategies discussed.

Programme information is available here.
The deadline for applications is 27th July 2012.

Enquiries to:
Colin Donoghue
E: cpmenquiries@cit.ie.
---------------------------------------------------------------------------------------------------------------------------
MSc in Marketing Practice
This one year taught MSc in Marketing Practice offers graduates a degree that will render them more employable by enhancing their ability to contribute to the real needs of the business community. The hybrid nature of the programme will turn Marketing Graduates into Marketing Practitioners with an array of action learning components; incorporating live assignments, specialised workshops, marketing strategy simulation and an industry-based marketing consultancy. There will also be a learning journal completed throughout the year, detailing how and what the student has learned from the Masters experience.
This action learning based programme consists of a hybrid array of touch-points with business, facilitating learner engagement with a diverse range of marketing professionals. The programme also incorporates a suite of modules designed specifically to prepare the learner for careers in marketing practice.

Programme information is available here.
Deadline: 31st August 2012

Enquiries to:
Maurice Murphy
E: maurice.murphy@cit.ie
Conor Kelleher
E: conor.kelleher@cit.ie

---------------------------------------------------------------------------------------------------------------------------
Certificate in Mechanical Electrical Quantity Surveying (Level 8)
CIT's Department of Construction has announced a new Certificate in Mechanical & Electrical Quantity Surveying, planned to commence in September 2012.

This Special Purpose Award is aimed primarily at graduates and practitioners who wish to enhance their skills and capability in the specialist area of Mechanical and Electrical Quantity Surveying. It aims to develop technical proficiency in the specific areas of Services Technology, Cost Planning and Measurement of Building Services. The modules will provide participants with a structured approach to the characteristics of different technologies, the costing of such alternatives on a whole-life costing basis, and the application of measurement principles to M&E installations.

The 15 Credit course was specifically developed in response to an identified need from industry. It is envisaged that the modules will be delivered on a part-time basis, over one academic year, in a manner that will suit the work pattern of participants.

By broadening, deepening and updating their skills in this specialist aspect of Quantity Surveying, participants will be able to demonstrate compliance with the CPD requirements of relevant professional bodies.

Applications from interested candidates should be received by 31st July 2012. Further details, and an application form is available by contacting Mark Higgins at meqs@cit.ie
Programme information is available here.
---------------------------------------------------------------------------------------------------------------------------
Master of Business (by Research)
Closing date: Friday, 29th June, 2012
CIT's research programme includes support for investigative analysis of particular relevance to Irish and European Industry. Applications are invited from suitably qualified candidates to undertake research into the linkages and relationships among firms in a particular industry sector.
Sectors Suitable for Research:
Agri-Food / Internationally Traded Services / Renewable Energy / Tourism
Please click here to download more information
For further details or to submit an application please contact:
Dr John Hobbs
Department of Accounting and Information Systems
School of Business
Cork Institute of Technology
Bishopstown
Cork
T: (021) 433 5149
E: john.hobbs@cit.ie
--------------------------------------------------------------------------------------------------------------------------
MASTER OF ARTS (MA) by RESEARCH
Closing date: Friday, 15 June, 2012

Applications are invited from suitably qualified candidates to undertake research in the School of Humanities at Cork Institute of Technology (CIT). Bursaries will be awarded to successful candidates in the fields of study of Early Years Education and Social Care.

Applicants for these bursaries should have a relevant honours degree (minimum 2H1) in the specific disciplines mentioned above. Candidates should also possess good writing and communication skills, and be highly motivated. Successful applicants will be registered for an MA by research in CIT and will be paid a grant to cover fees and maintenance for two academic years.
To apply: Applicants are requested to submit via email attachments (Word or PDF format only):
(i) Full curriculum vitae including detailed college examination grades, work experience, etc;
(ii) A covering letter explaining why you wish to pursue an MBS (research);
(iii) A brief research proposal (not more than 1,000 words);
(iv) Contact details of two referees.

Candidates will be shortlisted and will be required to attend an interview.
For further details or to submit an application please contact:
Dr Margaret Linehan
Head, School of Humanities
Cork Institute of Technology
Bishopstown
Cork
T: (021) 43 5510
E: margaret.linehan@cit.ie
--------------------------------------------------------------------------------------------------------------------------