Scrum Machine Scores National Prize for CIT's Martin Evans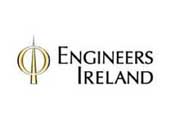 Published on: Thursday, 21 June 2012
ENGINEERS IRELAND INNOVATIVE STUDENT ENGINEER OF THE YEAR AWARD 2012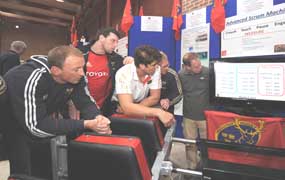 Tuesday, June 19, 2012: Martin Evans from CIT has won first prize in the Engineers Ireland Level 8 Innovative Student Engineer of the Year Awards 2012, sponsored by Siemens, for design and development of a scrum machine, it was announced today. In the Level 7 category, Nigel Morris from IT Carlow, won the category for his project focusing on Briquette Carousel, an industrial based project, designed to automatically bag wood waste briquettes for resale to the domestic market.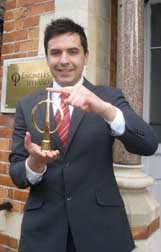 Martin Evans from CIT has designed the machine with the requirements of Munster Rugby in mind and with their input. The objective of this research and development project is to increase the functionality of the Munster Rugby existing intermediate level scrum machine to the level of an advanced scrum machine with performance measurement capabilities.
According to Michael O'Connor, Communications Manager Siemens, this year's entries exhibited real creativity but also products and processes that had the potential to improve every-day lives. "Innovation is about more than just creativity. It is about better or more effective products and systems, improving services or the application of new technologies. The entries in this year's Engineers Ireland 'Innovative Student Engineer of the Year Awards' have these characteristics in abundance. I'd like to congratulate all of the finalists here today and particularly Martin for winning this year's Level 8 category and Nigel in the Level 7 category. I wish them the best of luck in their future endeavours and encourage them to continue to harness the innovative talent and ingenuity they have shown in this year's competition."
Nigel Morris winning concept in the Level 7 category is designed for ease of retrofitting to these briquetting presses. With no PLC it's a cheap yet simple design, aimed at offering a low cost maintenance free piece of equipment to bag these briquettes. Currently the market only offers highly automated complex bagging plants, which are not suited to the SME sector here in Ireland.
John Power, Director General of Engineers Ireland, said: "The increase in the number of students taking higher-level maths in the Leaving Certificate is extremely encouraging. It suggests students are finally starting to grasp the importance of maths and the sciences and how these subjects are a springboard to successful careers in dynamic areas such as engineering. This of course feeds into competitions like the Innovative Student Engineer of the Year Awards which showcases excellence and the best of Ireland's young innovative minds. I would like to applaud to all of the participants in this year's competition for their commitment, creativity and hard-work."
The aim of the 'Innovative Student Engineer of the Year Awards' is to highlight excellence in engineering degrees across Ireland. The competition is judged on the merit of final year projects. Final year students of Level 7 and Level 8 engineering degree programmes, accredited by Engineers Ireland, are eligible to enter.
Students shortlisted in the Level 8 category represented CIT, DIT Bolton Street, Trinity College Dublin, NUI Galway and Dublin City University. In the Level 7 category students representing IT Sligo, DIT Bolton Street and IT Carlow were all also shortlisted.
The Engineers Ireland Innovative Student Engineer of the Year Awards took place today in Engineers Ireland HQ, Clyde Road, Dublin 2. For further information about Engineers Ireland and the Engineers Ireland Innovative Student Engineer of the Year Awards log onto www.engineersireland.ie.