An International Marketing Win in London for CIT MBus Students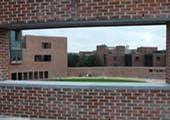 Published on: Monday, 18 June 2012
A major international award, the 'Pearson and (Red) Challenge' in London, has been won by a team of Master of Business students from the Department of Continuing Education, School of Business, CIT. Under the direction of Dr Angela Wright, the team of Marian Holland, Alex Lopez, Claire O'Donovan, John Sheehy, Michelle Brennan, named 'Falcon Consultancy' for the purposes of the competition, won the award for their marketing package comprising a detailed marketing plan and an animated video.
The competition challenge was to launch a new (Red) partner product that will generate a sustainable flow of money for the Global fund to support health campaigns targeting thousands of men, women, and children who die each day from Aids, Tuberculosis,and Malaria in Africa. Product Red works with companies like American Express, Apple, Converse, Gap and Starbucks to develop (Red)-branded products; up to 50% of the gross profits are donated to the Global Fund which was founded in 2006 by activist Bono and Bobby Shriver of ONE/DATA to engage the private sector in raising awareness and funds to help eliminate AIDS in Africa.
Entries were judged on originality, creativity, and inspiration. Teams were invited to participate from universities and educational institutions all over Britain and Ireland. It was a considerable challenge, with many excellent entries, and it is a wonderful achievement for CIT that one of our two teams secured the award. The first prize award was presented at a special ceremony in London on June 18th.
The Master of Business is a part-time programme delivered over two years at the Department of Continuing Education, School of Business, CIT.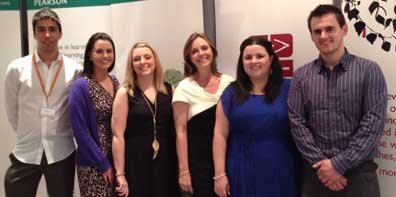 L-R: Alex Lopez, Claire O'Donovan, Michelle Brennan, Dr Angela Wright, Marian Holland, and John Sheehy.