Event: CIT to host Cork City 61st International Athletics Meet
Tuesday, 17 July 2012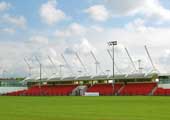 CIT will host the Cork City Sports 61st International Athletics Meet on the evening of Tuesday, 17th July, from 6.00pm. This is a pre-Olympics meet and is the centrepiece of the Cork Athletics season.
According to the organisers: "Many more world-ranked athletes will compete in Cork as the reputation of the country's only annual International Athletics Meeting has spread across the world. We are extremely privileged to be part of the Euromeetings programme and are already looking forward to a wonderful day of competition on July 17th.
CIT has a long and successful tradition of helping to produce some of Ireland's finest sporting talent at its facilities in Bishopstown. This is a tradition it seeks to strengthen, and progress, by significantly supporting the Elite Student Athlete and High Performance Teams. The CIT Sports Bursary & Munster Council Scheme has been in place in CIT since 1996 and are awarded to students across a wide section of sports.
Earlier this year CIT signed an agreement with the Cork County Board which will see the Cork Senior Hurling panel headquartered at CIT's Bishopstown Campus and will see the Cork players utilising the sports and ancillary services at CIT for their training and development (more info). Last year, CIT also signed a licensing agreement with Munster Rugby (more info), which saw, the Cork based members of the professional Munster squad and academy headquartered at CIT's Elite Gym.
A 1,200 seat fully-covered stadium that houses a two-tier gymnasium, meeting room, doctor's room and six dressing rooms that complements a floodlight Sand Based Multi Purpose Pitch;
A Multipurpose Sports Hall incorporating a state-of-the-art Gym & Weights Room;
Synthetic International Standard Athletics 8 Lane Track with full track & field facilities. Includes a new 800-seat stand (complete with a Sports Meeting Administration Centre) and indoor 60m running/warm-up area;
Three full size Soccer Pitches;
Two Rugby Pitches;
Two GAA Pitches;
A Floodlit Full Size Astro Turf Pitch;
A Synthetic Surfaced Tennis Court;
A 3km Jogging Track encompassing the campus;
A further Multipurpose Sports hall, with swimming, diving and sailing facilities at our National Maritime College of Ireland in Ringaskiddy;
As well as all these, just off the main CIT campus there is the Bishopstown Leisure World - leisure and recreational complex with two swimming pools, Gym and Multi-purpose area.