CIT Sports Bursary programme for 2012/2013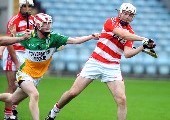 Published on: Monday, 16 July 2012
Each year CIT awards sports bursaries to students who display a high level of achievement, commitment and very importantly loyalty to their chosen sport within CIT. Bursaries are awarded across a wide range of sports, at one of two levels – Fresher (1st years) valued at €500 and Senior (open to all years post 1st year) at €1000.
The service benefits to the recipients include access to CIT Sports Facilities including the Elite Gym & Weights Room, Sports Education Talks & Workshops and a Mentoring Support Network. These bursaries provide valuable assistance to students in their quest for sporting excellence.
At the 2011/'12 Sports Bursary presentation evening a total of 105 bursaries were presented by Guest Speaker, Irish Senior Ladies Soccer Manager- Sue Ronan to both male and female athletes from 18 different sports.
Awarded in the academic year 2011/2012
77 CIT Sports Bursaries (32 Freshers/Development & 45 Senior bursaries) for Athletics, Boxing, Basketball, Camogie, Cycling, Dual GAA, Football, Golf, Hockey, Hurling, Motocross, Racquetball, Rowing, Sailing, Soccer, Table Tennis, Tae Kwon Do, Tennis.
12 CIT/Munster Rugby Bursaries
11 Munster Council GAA Scholarships
2 Cork City Soccer Bursaries
1 Cadburys GAA Bursary
1 EMC GAA Bursary
1 Jonathan Herlihy Foundation Soccer Bursary
CIT Sports Bursaries are only offered to students that have met the CIT admission requirements through the CAO system and are enrolled on a programme of academic study at CIT. Application forms are available after August 8th 2012 and the closing date for receipt of applications is 5pm October 1st 2012.