Event: Ian's Epic 'Wrong-Way-Round' Voyage Home to Crosshaven
Saturday, 21 July 2012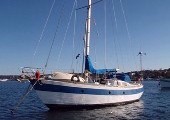 This Saturday, 21st July, sees Ian Heffernan, a CIT Nautical Science graduate, return to his hometown Crosshaven, Co. Cork having sailed all the way from Sydney. A lifelong dream, Ian's journey began in Sydney in January 2011 and has seen Ian, his girlfriend Laani Pegler, and his crew, sail to New Zealand, across the Pacific taking in the French Polynesian Islands, Galapagos, Panama Canal, Caribbean Islands, Bermuda and the Azores.
A blog of their travels aboard steel yacht "Kadoona", an Ebbtide 36, has been closely followed by family and friends in Australia and Ireland. The journey has been dubbed "The Wrong Way Around" due to the fact that it would be more usual to make this journey the other way across the world. However, due to pirates who patrol the Indian Ocean and Gulf of Aden this has made the area a no-go area for sailors.

A native of Crosshaven, Ian's love of the sea began at a very young age when he worked as a ferry boy at the Royal Cork Yacht Club. After school in 1994, Ian studied Nautical Science at CIT. He obtained his Master ticket in 2005, the highest rank in commercial shipping. 2010 saw Ian return to his studies at the National Maritime College of Ireland, also part of CIT, using distance learning to complete his Bachelor of Science (Hons) Nautical Science. He was awarded "Best Honours Degree Student", a prestigious award given to the top performing students at CIT.
Ian's career has seen him working mainly on research ships, primarily the British Antarctic Survey. British Antarctic Survey is one of the world's leading environmental research centres and is responsible for the UK's national scientific activities in Antarctica. Ian worked on the RRS Ernest Shackleton, primarily a logistics ship used for resupply of their three stations in Antarctica. Ian also spent a winter in their research station at Halley in 2003 as a Boatman.
It was while working as Safety Officer on board the Amazon Explorer in 2006 that Ian met Laani, from Perth. From 2007 to 2011 he worked as a Deputy Harbourmaster for Sydney Ports.
Ian, Laani and yacht Kadoona, are expected to reach Roches Point this Saturday at 3pm and a flotilla of boats will be waiting to greet them. The celebrations will continue back on shore at the Royal Cork Yacht Club at approximately 4pm. Follow the blog