CIT supports Bank of Ireland's new College Finance Loan Scheme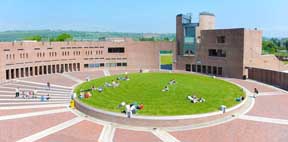 Published on: Thursday, 16 August 2012
Detailed information is available for download here.


Cork Institute of Technology has announced its support for Bank of Ireland in their new College Finance Loan Scheme which has been set up offering an easy and affordable way to cover the Student Contribution Charge.


Bank of Ireland has set up this Loan Scheme to help spread the cost of the Student Contribution Charge (€2,250 for the academic year 2012 - 2013) with manageable minimum monthly payments of €100 per month for the duration of study. This will facilitate undergraduate students from First Year to Final Year with the payments being made directly the CIT Finance Office each year.
 

Parents/Guardians make an application to borrow the full cost of the Student Contribution Charge for an undergraduate course up to 5 years in duration. The loan is drawn down each year and is paid directly to CIT Finance Office each year. The student should present Fees Remittance Invoice from CIT to Bank of Ireland Campus Branch each year so that the Student Contribution Charge can be paid to CIT Finance Office.

 Bank of Ireland College Finance is only available from designated campus branches.

The closing date for applications is 31st October 2012. For further information T: 021 454 5177 or www.bankofireland.com