Event: LeisureWorld Rebel Run 10km Road Race Launch
Sunday, 21 October 2012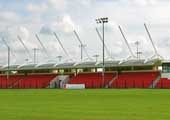 Entries cost €15 and can be made online at www.rebelrun.ie.
Postal entries are also available by downloading an entry form from the same website.
Closing date for entries 20th October 2012
Entries are open to persons aged 18 and over.
On the 5th September, the Lord Mayor of Cork City, Councillor John Buttimer joined Olympian Rob Heffernan to launch the inaugural LeisureWorld Rebel Run 10km Road Race.
Taking place on Sunday, 21st October at 9.45am, the LeisureWorld Rebel Run Course starts in Bishopstown, travelling into the county before returning to finish in front of the grandstand on the CIT athletics track.
The LeisureWorld Rebel Run 10km race is organised by CIT, Cork Sports Partnership, and Leisureworld. It is hoped that the Rebel Run will feature as a main event in the running calendar, with the 10km Rebel Run offering the perfect training goal for the many Fit4life training groups that the Sports Partnership has helped promote across the county.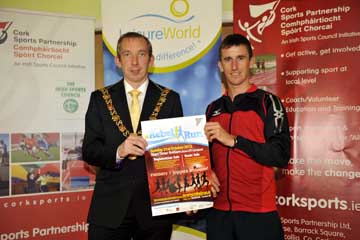 Lord Mayor Cllr. John Buttimer with Rob Heffernan Olympic Athlete.
Lord Mayor, Councillor John Buttimer, a Bishopstown native himself, was "delighted to see the LeisureWorld Rebel Run making use of the great facilities available at LeisureWorld and CIT." The Lord Mayor regularly keeps active and exercises, playing tag rugby and taking part in the various running and cycling events around Cork. "These events are important to give people the opportunity to train for, and to enjoy the thrill and sense of achievement that completing events like these bring. Not only is exercise important for health, it's a great way for people to socialise, and what better way to prove yourself a true Rebel, than to complete the LeisureWorld Rebel Run 10km."
Eithne Hammond of Cork Sports Partnership stated "The Rebel Run 10km road race is a great addition to the Rebel Tour Cycle taking place on 15th September. The Rebel Run will be perfect for those just wishing to take part to get fit, whilst still offering a quality race and event for the more established runner."
Mark McManus of LeisureWorld, headline sponsors for this year's Rebel Run, commented that "outdoor activity is a great way to lead a healthy and active lifestyle, LeisureWorld is delighted to be involved in both the organisation and sponsorship of the Rebel Run, promoting a healthier lifestyle, but also offering a great fun and rewarding exercise experience."
The race is limited to 750 runners this year with the hope of increasing numbers in future years. The event promises to be a great experience, with the course being accurately measured by Jones counter, chip timing for all runners, a scenic rolling course and goody bags including a dare2b technical running t-shirt.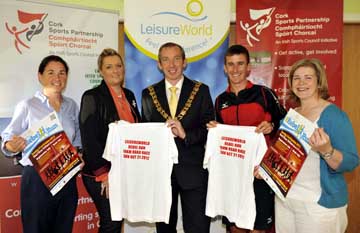 (L-R) Miriam Deasy, Sports Officer, CIT; Christine Moloney, CEO, LeisureWorld; Lord Mayor, Cllr. John Buttimer; Rob Heffernan, Olympic Athlete; and Eithne Hammond, Cork Sports Partnership.

The organising partners of CIT, Cork Sports Partnership, LeisureWorld , Athletics Ireland with the assistance of the An Garda Síochána hope that friends and family will come along on the day, cheering from the grandstand to support the runners in the final straight.

Contact: