EMC Schools Robotics Competition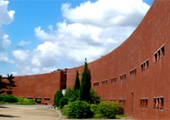 Published on: Friday, 21 September 2012
The CIT Access Service recently embarked on an exciting collaborative programme with EMC, the REC Foundation and 8 of our Access Linked Schools.


Participating teachers receiving their certificates, together with the REC team, staff from the Access Service and EMC.
The VEX Robotics programme aims to introduce science, technology, engineering and maths to young people, by building robots and involves over 50,000 students worldwide.
2012-2013 Game
This year's game is called Sack Attack. Junior cycle students, with guidance from their teachers and EMC mentors, will aim to build the most innovative robots possible and work together to obtain the most points possible. In addition to having a great time and building amazing robots, through their participation in the VEX Robotics Competition and their work within their team, students will learn many academic and life skills. Each school received a robotics kit and the student teams are now actively designing their robots to be ready to compete in the Discovery Science Exhibition in the City Hall in November.

Martin O'Flaherty, EMC, who is coordinating the programme in Ireland said "We are very excited to be launching the Vex Robotics Competition in Ireland. In addition to promoting STEM, which is key to the smart economy and all our futures, the competition engages students while giving them an educational, fun experience across many disciplines"
Deirdre Creedon, CIT Access Officer, stated that "the CIT Access Service jumped at the opportunity to be involved in such an exciting project. Offering the programme to our Linked Schools means that we can expand our pre-entry service to young people from participating schools. Having a partnership between private industry and second and third level education providers, ensures that the students engaging will have an enriched experience."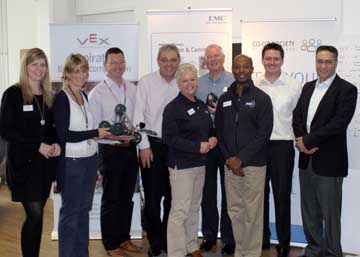 Louise Bermingham, Deirdre Creedon, CIT Access Service, Martin O'Flaherty, EMC, Members of the REC team and Brendan Butler, EMC.
Trainers from the USA based REC Foundation and VEX travelled to Cork last week to meet with teachers in the participating schools, meet with prospective student teams, drum up interest, and provide the training for the teachers and the mentors. On the 7th September, approximately 50 EMC volunteer mentors and teachers took part in a day long training programme.
The schools involved in the programme are as follows:
1. Bishop McEgan College, Macroom
2. Colaiste Mhuire, Buttevant
3. North Presentation, Farranree
4. North Monastery
5. St. Coleman's Community School, Midelton
6. Deerpark CBS
7. Bishopstown Community School
8. Davis College, Mallow