CIT part of New Link With Universities in Pittsburg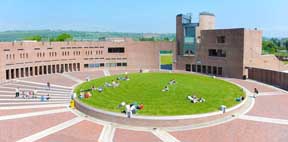 Published on: Saturday, 20 October 2012
CIT has extended its global outreach as a number of Institutes of Technology Ireland (IOTI) who have signed an agreement with Pittsburgh Council on Higher Education (PCHE). The IOTI and the Institutions in Pittsburgh such as Carnegie Mellon University and University of Pittsburgh, have entered into an agreement to strengthen, promote and develop co-operation in education, training, research, and innovation among the member institutions.
Under the terms of a Memorandum of Understanding approved by both organisations, the member institutions will promote cooperation including opportunities for students and graduates of PCHE institutions to pursue studies at the Irish Institutes (up to PhD level) and for students and graduates of IOTI institutions to pursue studies at the PCHE institutions (up to PhD level).
The link will also include professional development of faculty and administrative staff Faculty, student and administrative exchanges; Partnerships in innovation and applied research, including potential for joint research and distance education
Gerry Murray, CEO of IOTI, said: "This agreement is unique because it is 'system to system' rather than just an agreement between individual institutions. It represents an exciting opportunity for students from the Pittsburgh institutions to substantially broaden their education experience by coming to Ireland and for Irish students to enhance their education in the United States. I have no doubt that our respective students will strengthen what is already an enormous bond between our countries."
The agreement between PCHE and IOTI is the first of its kind in the United States. "This agreement between Pittsburgh's higher education institutions and one of Ireland's nationwide higher education systems is a testament to the quality, and diversity, of the institutions of higher education that make up PCHE," said Kenneth Service, executive director of PCHE. "It is also another example of how Pittsburgh's colleges and universities are contributing to Pittsburgh's growing reputation for excellence around the world."
"This agreement offers opportunities for students from Ireland and the US, as well as potential benefits to the communities that are served by these institutions both here and in Ireland," Mr Service said. "We are proud to welcome the IOTI institutions as on-going partners in contributing to a better world through education."
The agreement is in effect immediately and student exchanges are expected to begin as early as January 2013.
The member Institutions of PCHE are: Carlow University, Carnegie Mellon University, Chatham University, Community College of Allegheny County, Duquesne University, La Roche College, Pittsburgh Theological Seminary, Point Park University, Robert Morris University, and the University of Pittsburgh.

Last month Institutes of Technology Ireland (IOTI) also signed an agreement with the Wisconsin Technical College System which is intended to lead to students from Wisconsin coming to Ireland from 2014 to study in Irish Institutes of Technology.