The Alexander Technique Interactive Teaching Method Workshop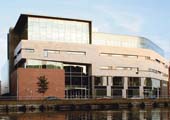 Published on: Saturday, 13 October 2012
with Donald L. Weed, D.C.
A revolutionary approach to the Alexander Technique CIT Cork School of Music 19th - 21st October, 2012

Learn to go through life more easily and effectively

The Alexander Technique has long been recognised for its contribution to performance, health and well-being. This informative and enjoyable interactive workshop will introduce you to how the ITM Alexander Technique can help you improve your life and achieve your potential. You will learn some key concepts that you can apply immediately in order to experience improved mental and physical performance.

Donald L. Weed, D.C. began his professional career as a teacher of the Alexander Technique in 1975. In addition to his background in sports and martial arts, he has an extensive background as an actor, singer, director and performance coach. He has undergraduate degrees in Fine Arts and Human Biology as well as a Doctor of Chiropractic degree. He has taught the work of F.M. Alexander to many thousands of students and performers around the world. He is the creator of the Interactive Teaching Method (ITM), and is currently training teachers in Switzerland, Germany and the UK.
Programme and Fees
Introductory Lecture by Don Weed on Friday 19th October 7.00pm - 10.00pm
Workshop with experiential lessons, Sat 20 Oct and Sunday 21st October 10.00am - 6.00pm
Don Weed, Adrian Bourner, Aingeala de Búrca, Katey Sleeman, and Mary Shorten
Book early as places are limited
Enquiries: E: shorten.mary@gmail.com M: 086 240 0312
Workshop fees:
Introductory Lecture (Fri) and 1 day course (Sat or Sun) €100
Introductory Lecture (Fri) and 2 day course (Sat and Sun) €170

CSM Concessions:
Introductory Lecture (Fri) and 1 day course (Sat or Sun) €70
Introductory Lecture (Fri) and 2 day course (Sat and Sun) €130