Event: Print Exhibition reveals the fate of Titanic duo Albert & Ernest
Thursday, 25 October 2012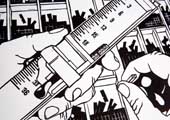 'Albert, Ernest & the Titanic', an exhibition by Jamie Murphy will open in CIT Wandesford Quay Gallery Thursday, October 25 at 6pm and will run until Saturday, 10th November.
The exhibition consists of a collection of original black & white lino-cut prints and a substantial artists' book by Murphy about the fate of the Titanic and her on board printers. Film and photographs documenting the development of the project will also be on display.








The book 'Albert, Ernest & the Titanic' is the product of two years of research conducted by Jamie Murphy while studying for his MA in Design at NCAD, it tells the story of the Titanicís ill-fated on board printers, Abraham 'Albert' Mishellany and Ernest Corbin as they embark on the ship's maiden voyage. They acted as both designers and printers for items produced on board the liner, such as menus, stationery, etc. Today, such items sell for tens of thousands of euro at auction.

Printed at Distillers Press in NCAD, Murphy has used only the type of equipment and materials available to Mishellany and Corbin to produce this beautiful limited edition book. All the text for the 36 copies was painstakingly set and printed by hand using traditional letterpress methods. Forty hand cut linoleum illustrations portraying the working men and the vast, luxurious liner, were also created to complement the publication. Murphy said: "One special component is the use of coal salvaged from the Titanic's wreck site to make an ink for the book. This means there is a little bit of the Titanic in each copy."

The book has been letterpress printed at Distillers Press, NCAD, Dublin, Ireland. All the text has been set by hand. The book runs to 176 pages with 40 linocut illustrations. A unique adhesive-less binding has been designed for the book and it has been hand bound in a limited edition of 36 copies.

The exhibition will include a display of print tools including: Original linocuts (mounted & unmounted), antique metal type (1907), newly cast metal type (2011), digitally produced magnesium printing blocks, laser cut wooden type, Titanic coal, pestle and mortar, printed Titanic coal ink, two open 'Albert, Ernest & the Titanic' books.



Author Colm Toibin writes in his foreword for the book: "As we mark the centenary of the sinking of the Titanic, we are reminded of the amazing gallery of prose and poetry prompted by the events of 1912. However, as well as the passengers, we cannot forget the skilled craftsmen who worked on the ship."

Jamie Murphy is the winner of the NUI Art & Design Prize 2012 and the RDS Printmaker Award 2012. Murphy is a practicing graphic designer based in Dublin. His studio is called Fjord and work can be seen at www.fjord.ie
Albert, Ernest & the Titanic will run from 25th October to 10th November and will span Design Week 2012.
For further information contact Wandesford Quay Gallery on T: 021 4335210 / E: ccad.gallery@cit.ie

Jamie Murphy on 0879626365 / jamie@fjord.ie or visit www.albertandernest.com
http://titanicletterpress.blogspot.ie/
http://www.printeresting.org/tag/jamie-murphy/
http://www.arthub.ie/blog/2012/06/08/ncad-graduate-show-2012/