Event: CIT Conferrings 2012
Thursday, 25 October 2012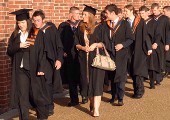 It is Conferring time in CIT again where over 2,500 awards will be conferred across the full academic award spectrum up to and including PhD. Business & Humanities Conferring will take place on Friday 19th October, followed by Engineering & Science on Monday 22nd, when graduates of the CIT Crawford College of Art & Design will also be conferred. Tuesday 23rd will see the conferring of Doctoral and Research masters degrees, underlining the significant level of high quality research being conducted in CIT.

CIT Cork School of Music graduation will take place in the CSM on Thursday morning, 25th October, along with graduates from the Cork Centre for Architectural Education who will receive their joint CIT-UCC degrees in Architecture and, for the first time, Masters degrees in Architecture.
We are delighted to welcome back onto the campus all our recent graduates, along with their family members and friends, to celebrate this significant milestone on their academic journey. The worldwide CIT diaspora is continuing to grow and we would encourage all our alumni to keep in touch with both the Institute and their fellow alumni via the CIT Alumni Association and through the various social media.
Tá súil againn go mbainfidh gach éinne sult as an ócáid seo . 'Lá d'ár saol' a bheidh ann do gach céimí is a chlann. Táimid ag súil le fáilte is fiche a chur romhaibh go léir.
Barry O'Connor,
Registrar and Vice President for Academic Affairs
For more information on the 2012 conferings please CLICK HERE
To view a live video stream of the conferring ceremony please CLICK HERE