CIT hosts Graduate Design Awards Exhibitions and Awards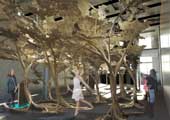 Published on: Thursday, 08 November 2012
CIT is hosting the 2012 National Institute of Designers in Ireland Graduate Design Awards Exhibition and Gala Awards Show during Design Week (November 5th to 9th) at Nexus Student Centre on CIT's Bishopstown Campus.

Design Week is a user-contributed festival focusing on design. The idea is a simple one. The Design Week committee works with design organisations, collectives, colleges, companies and studios to package and promote design related events taking place on the island of Ireland. There are walks, talks, launches, exhibitions, and workshops.
The audience includes the designers who design things, the business community who purchase design services and most importantly, the public who are the end users of all designers' services.
This is an opportunity to see the work of Ireland's best young design graduates. Disciplines such as craft design, furniture, fashion & textiles, digital media, visual communications, motion graphics & production design, and product design are all featured.
The exhibition will feature young and upcoming, designers such as Orla Reynolds who has featured on 'Saturday night with Miriam' and has been acclaimed in the international design press. Local talent includes Bandon native and CIT's first interior architecture graduate to show, Sinead Crowley, who is amongst 22 designers competing for the coveted Institute of Designers overall category awards and Graduate Grand Prix.
For more information please see the Facebook site graduate design awards or contact marc.oriain@cit.ie, gwen.lettis@cit.ie or www.designweek.ie.
RIAI Irish Architecture Awards Exhibition 2012

Venue: Nexus Student Centre, CIT Bishopstown Campus
Date: 5 - 9th November
Time: 9am - 9pm

An exhibition of award winning Irish architecture 2012.

IDI Graduate Design Awards Exhibition

Venue: Nexus Student Centre, CIT Bishopstown Campus
Date: 5 - 9th November
Time: 9am - 9pm

Institute of Designers in Ireland Graduate Designers Awards

Gala Awards Ceremony

Venue: Nexus Student Centre, CIT Bishopstown Campus
Date: 9th November
Time: 6pm

The winning designer will be presented with a new iPad by sponsor Compu B.

Albert, Ernest & the Titanic

Venue: CIT Wansford Quay Gallery
Date: 25th October - 10th November

The book 'Albert, Ernest & the Titanic' is the product of two years of research conducted by Jamie Murphy

Cork's Public Lettering

CIT in association with Typography Ireland welcomes Phil Baines, Professor of Typography at Central Saint Martins College to Cork to research and conduct a tour on Cork's public lettering with Catherine Dixon.

Both Professor Baines and Catherine Dixon are known for their research in this area, and though they have visited Dublin previously, this will be the first time that such a tour is conducted in Cork.

The tour starts from CIT Wandesford Quay Gallery on Tuesday, November 6th at 2pm.

Tuesday, 6th November at 2pm
Location