CIT congratulates Colm O'Neill and Aidan Walsh on their selection onto the GAA/GPA Gaelic Football All Stars for 2012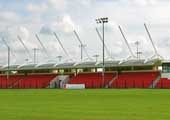 Published on: Thursday, 01 November 2012
The CIT Student GAA Club would like to congratulate graduates Colm O'Neill and Aidan Walsh on their selection onto the GAA/GPA Gaelic Football All Stars for 2012. This prestigious and much coveted award is as a result of their sterling performances for Cork during the year accumulating in National League and Senior Munster Football Championship success. While Donegal denied this Cork team All-Ireland Senior success, the performances of Aidan and Colm during all these campaigns was certainly of the highest calibre.
This is the second time Aidan has been honoured, having been selected in the 2010 All Star selection and comes only a few days after graduating from CIT with his Bachelor of Business in Recreation and Leisure. For Colm, who graduated from CIT in 2010 with a Bachelor of Science (Honours) in Construction Management, his first All Star adds to a truly remarkable list of achievements including Senior, Under 21 (x2), Junior Munster, and All Ireland Medals, Division 1 & 2 National League, and of course his Sigerson Cup Medal which he won with the Institute in 2009. And all of this from a player who has undergone two cruciate knee injuries in the space of only a few short years.
Both Aidan and Colm gave great service both as students and players during their time at CIT and are great role models not only to the up and coming young GAA players in the county but anyone who places value on commitment, persistence and loyalty. Their selection onto the 2012 All Stars is most deserving for these two talented and dedicated footballers and we at CIT salute their remarkable achievement.