2 CIT Students share 2012 Douglas Vance Bursary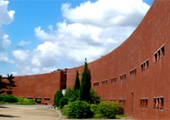 Published on: Friday, 02 November 2012
The family of the late Douglas Vance, an iconic hotelier for so long in Cork City, kindly donate a valuable annual bursary to exemplary students in the CIT Department of Tourism & Hospitality to go towards their continued education.
This year the Douglas Vance Bursary was divided among two very deserving winners, Rebecca Daly, 2nd Year Hospitality Management student, and Patricia Clogan, 3rd Year Hospitality Management student. Both Rebecca and Patricia were presented with their awards at the CIT Annual Awards Night.
To compete for the Bursary, students make a presentation to a judging panel made up of academics and industry representatives based on their experience to date, their academic achievements, and their plans for their future careers and professional development.
Patricia hopes to go on to complete a Masters or to obtain a CIPD qualification in Human Resources. Rebecca Daly commented that she "…will use the bursary towards my further studies at CIT and to complete a professional qualification in wine appreciation". Both recipients expressed their thanks to Mrs Vance and the family of Mr Douglas Vance, who continue to honour his memory with such a generous bursary.
The Department of Tourism and Hospitality at CIT encompasses the areas of Culinary Arts, Tourism, Hospitality and Bar Management. It has over 750 students across these disciplines and is located in a modern purpose-built building on the Bishopstown Campus.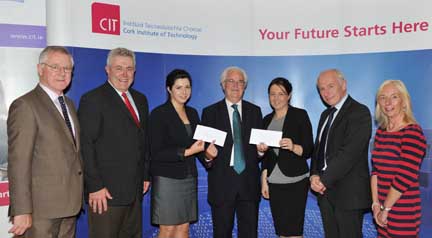 (L - R) Dr Barry O'Connor, CIT Registrar and Vice President for Academic Affairs; Bob Savage, Chair of CIT's Governing Body; Joint Douglas Vance Bursary recipient Patricia Clogan; Damien Courtney, Head of Faculty of Business & Humanities, CIT; Rebecca Daly, Joint Douglas Vance Bursary recipient; Adrian Gregan, Head of Department of Tourism & Hospitality, and Dr Margaret Linehan, Head of School of Humanities.