Sinéad Crowley wins the IDI National Interior Award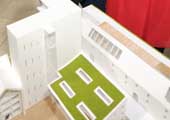 Published on: Sunday, 11 November 2012
Sinéad adapted Shannonvale Mills, West Cork, to accommodate a Sustainability Education and Exhibition Centre.

"We are delighted for Sinéad" said Marc O Riain, Lecturer in Interior Architecture at CIT. "It is a huge honour to win an IDI award, both for her and for CIT. She is incredibly diligent and creative. I am not at all surprised that she won in the most competitive discipline in the awards this year."

Sinéad is a recent graduate from the BSc (Hons) Interior Architecture course in CIT. "I have a passionate approach to design which is fuelled by everything I encounter - in particular, life's impact on the environment. I firmly believe a competent, impressive design can be achieved with minimal impact on the world around us."

Photographer: Pascal Ungerer

Her final year project transformed the iconic Shannonvale Flour Mill in West Cork into The Re-Discovery Centre, an Environmental Awareness and Education Centre. The centre caters for people from all walks of life aiming to reconnect them with the environment while simultaneously promoting sustainable lifestyle choices.

The facilities include a 7 storey interactive exhibition, farmers market, bicycle hire, allotments and office space for the client, Sustainable Clon. The primary aim of the design was the utilisation of the building as an exhibition tool, seen in the case of the radical reuse of an old abandoned building but also through design exposing elements such as the "cycle to work" lifestyle.

Maximising local expertise drives this design from enhancing existing features like the millrace, but also through material use and sustainable strategies. The industrial feeling is revived in the mill as the building reconnects its user with the world around them.
Sinéad is now working as part of the team at Crowley Carbon Ltd based in Powerscourt House, Enniskerry, Co. Wicklow. Working alongside architects and engineers, she is gaining experience combining design and cutting edge technology and retrofitting existing buildings. She is also kept busy with various freelance interior architecture projects ranging from domestic builds to exhibition design.
CIT is refurbishing its Architecture Department, spearheaded by Head of Department, Katherine Keane. The Interior Architecture and Architecture Technology degree courses will soon take up new accommodation on CIT's Bishopstown Campus and the new Architecture Factory building will facilitate their new taught MA, expected to start in September 2013.