107 Student Sport Stars presented with CIT Bursaries by Olympians Rob & Marian Heffernan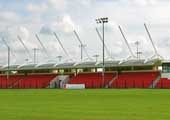 Published on: Tuesday, 18 December 2012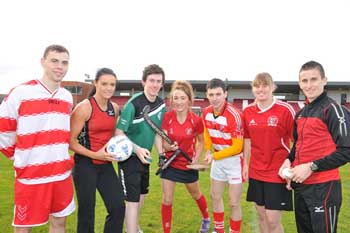 Gavin Mc Carthy (Soccer), Conor Skeehan (Racquetball), Yvonne O'Byrne (Hockey), Michael O'Brien (Hurling), Emma Farmer (Soccer), with Guest Speakers Robert & Marian Heffernan at the CIT Track.
Download CIT Sport Bursary Recipient Listing 2012
The CIT Sports Bursary Presentation Evening took place on the 5th December at the Oriel House Hotel, Ballincollig. The event saw 107 student athletes across 22 different sports presented with a prestigious sports bursary. The guest speakers, Irish Olympian Race Walker & Irish "Athlete of the Year" Robert Heffernan along with his wife Marian, Irish 4 x 400m Relay Olympian, performed the presentations along with sharing their historic Olympic sporting experiences.
The Institute allocates sports bursaries annually to students who display a high level of achievement, commitment and dedication in their chosen sport. The standard and competition for bursaries is exceptionally high with many recipients boasting All-Ireland titles, Provincial honours, M.V.P's, World titles and International caps. The bursary scheme is designed to help students reach their full potential both in their sport and also in their academic careers.
In total 107 bursaries were awarded including 42 CIT Freshers/Development Bursaries, 42 CIT Senior Bursaries, 13 Munster Council GAA Bursaries, 7 CIT/Munster Rugby Bursaries, 2 Munster Council GAA/Cadbury U21 Bursaries, as well as a Johnathan Herlihy Foundation Bursary for Soccer.
Among the recipients was Horse Racer Jane Mangan, who became the first lady to win the coveted "GPT" amateur handicap on day one of the Galway Festival this year. Conor Skeehan (Touraneena, Waterford) is the Racquetball recipient having recently returned from the Junior World Racquetball Championships in Los Angeles where he remarkably won silver in the Challenger Boys 18 Doubles.

The CIT Ladies basketball club were promoted to Division 1 this season after winning the Irish Colleges Division 2 League two years running and their bursary recipients are Brunells Rebecca Lyall and Gemma O'Mahony. Their male Basketball counterparts who won a historic double for CIT last season winning the Intervarsities Cup and the Irish Colleges Division 2 League are strongly represented by Blue Demons Mark O' Leary, Ciaran O'Sullivan and Paul Cumming as well as Ballincolligs Brendan Kiely.
Among the Athletics recipients are First year students Mark O'Sullivan (Bandon A.C), Cullen Lynch (Togher A.C.) and Rachael O'Shea (West Muskerry A.C) who last June won gold in the Senior Girls 800m at the Aviva All-Irelands School's Track & Field Championships. Senior Athletics bursary recipients include Thomas Houlihan (West Waterford A.C.), National Intervarsity Pole Vault Champion of 2011 & 2012, as well as Sinead O' Connor (Tralee Harriers), All-Ireland gold medal winner for Triple Jump last year.
Watersports are also well represented, among the sailing recipients are Schulls Dermot Coughlan and Oisin O'Driscoll who is the current Irish team racing National Champion. Rowing recipients include Skibbereen and Irish rowers Gary O'Donovan, Shane O'Driscoll and Gillian Hosford. This year, Gary won gold in the Mens Senior Double at the Irish University Championships, Shane finished seventh at the World University Championships in Russia in the Mens Four and Gillian won the Womens Senior 4s and 8s Irish Championship.
October last saw CIT ladies hockey team win the Intervarsity Plate among those that spearheaded the CIT victory was Irish player Yvonne O' Byrne (Cork Harlequins) and she will also be a recipient on the night. Former professional Cyclist with the An Post Sean Kelly Team, Paidi O' Brien (Dan Morrissey Speedy Spokes) is the cycling recipient. Paidi won the Intervarsity Road Race and was also second in the Time Trial event at the Intervarsities in October last.
This year sees the awarding of a Powerlifting bursary for the first time with Barry Pigott (CIT) who won two silver medals in the Bench and Squat at the World Powerlifting Championships in France over the summer deservedly being awarded.
Among the bursaries allocated for soccer is Emma Farmer, U19 Irish international and current captain of the Cork Women's Senior team, as well as Paul Deasy who made 20 appearances with Cork City seniors in the 2010-'11 season.On the rugby front, Munster U20s player Cian O'Donnell was among the recipients. GAA recipients included, recent Munster Senior Club Hurling medal winner with Thurles Sarsfields Michael O'Brien, Cork U21 footballer John Cronin as well as Gillian O'Brien who played for the Munster Senior Ladies Football team for the past four years.
CIT is very proud of the huge array of sporting talent being recognised which is a true reflection of the Institute's commitment to the development of sport amongst its student athletes.
Seated in front are Dr Barry O'Connor, CIT Registrar and Vice President for Academic Affairs; and Cork Olympians Marian and Rob Heffernan
Photographs by Darragh Kane.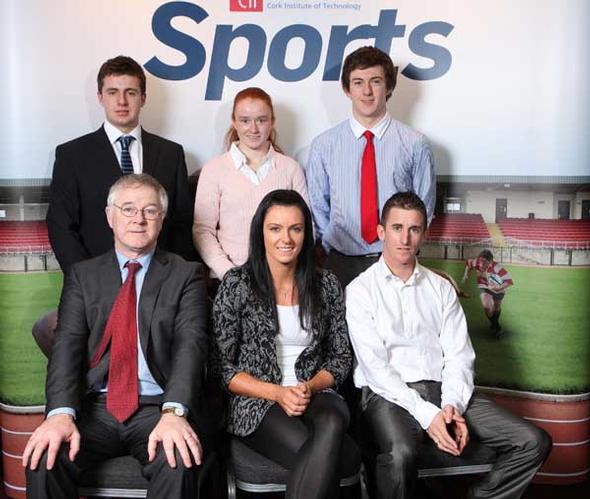 Motocross: Aaron Beausang; Horseracing: Jane Mangan; and Racquetball: Conor Skeehan.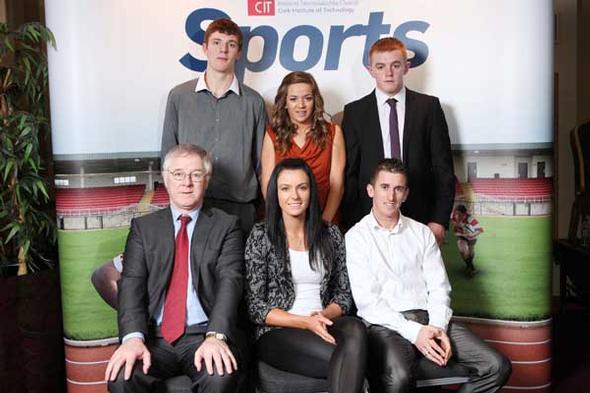 Dual (Camogie/Hurling/Football): Kevin Kavanagh, Aoife Walsh and Paul Fitzgerald.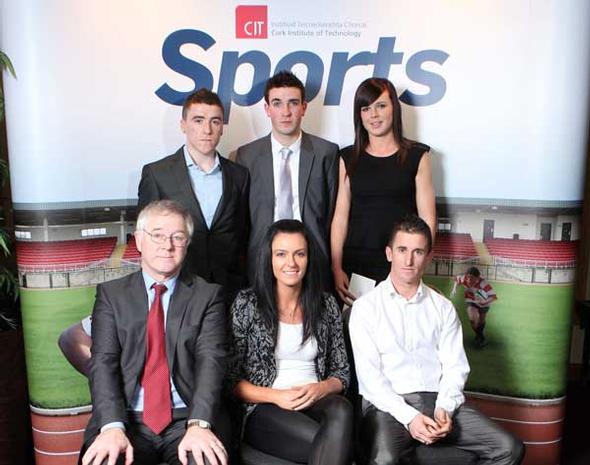 Athletics: Cullen Lynch, Mark O'Sullivan, and Rachel O'Shea.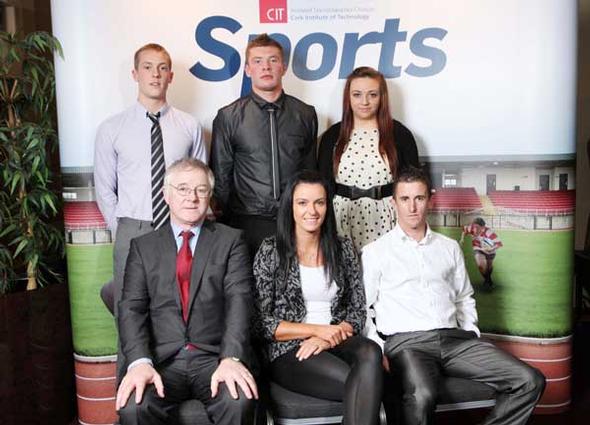 Basketball: Paul Cumming, Brendan Kiely, and Gemma O'Mahony.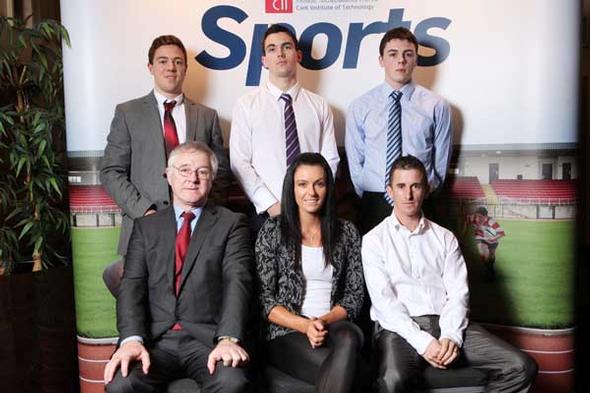 Football: Eoin Byrne, Ciarán Keating, and Cathal Vaughan.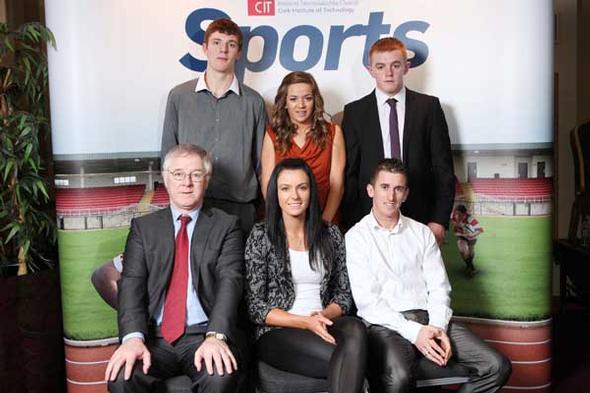 Dual (Camogie/Hurling/Football): Kevin Kavanagh, Aoife Walsh, and Paul Fitzgerald.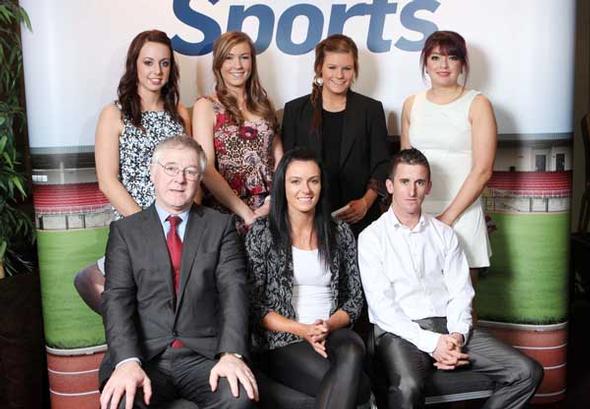 Camogie: Mariah Reidy, Nicole O'Brien, Sarah Buckley, and Christine O'Neill.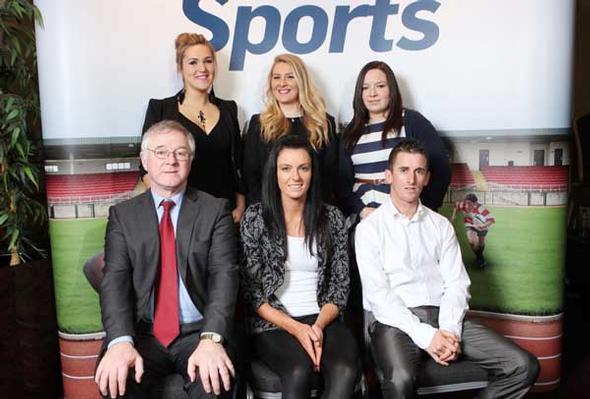 Rugby: Amanda Boland, Deirdre McAuliffe, and Grace Sweetnam.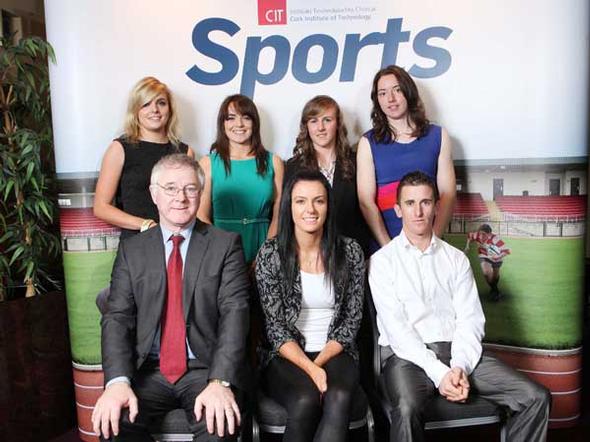 Football: Danielle O'Shea, Jessica O'Shea, Nicole Hickey and Sarah McEvoy.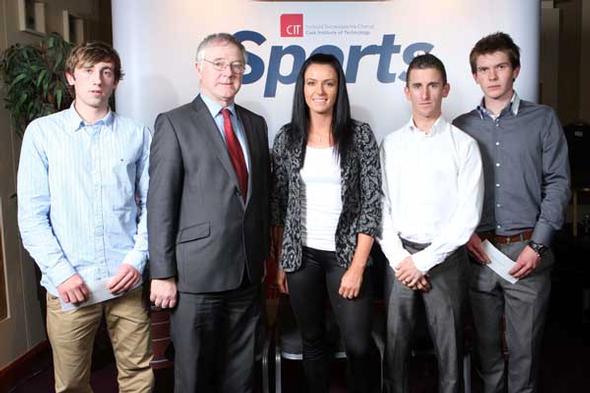 Sailing: Richard Harrington and Oisín O'Driscoll.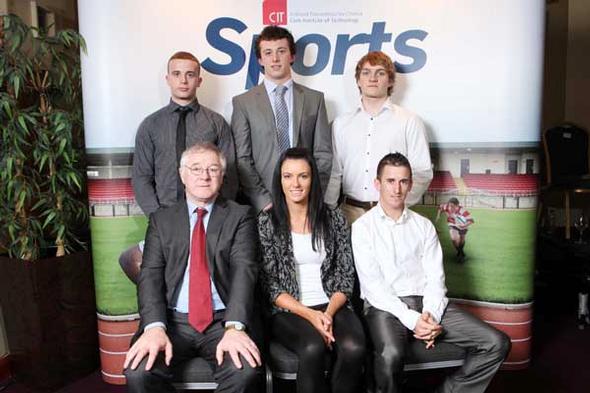 Rugby: Cillian O'Keeffe, Ciaran Keogh, and Damien Joy.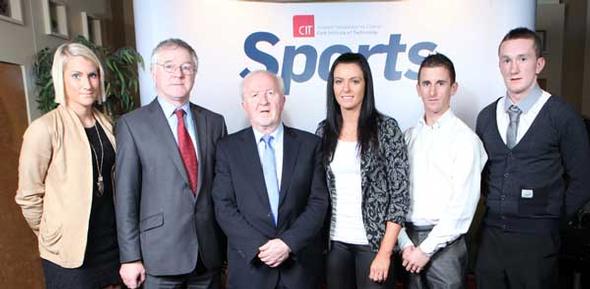 Robert Frost, Vice Chairperson Munster Council with Sports Bursary Recipients Football: Jenny
Luddy and Darragh Stack.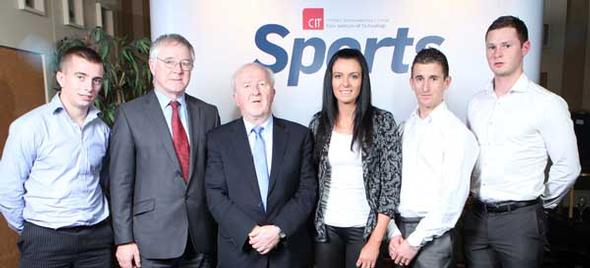 Robert Frost, Vice Chairperson Munster Council with Sports Bursary Recipients Football: Kevin
Hallissey and James Walsh.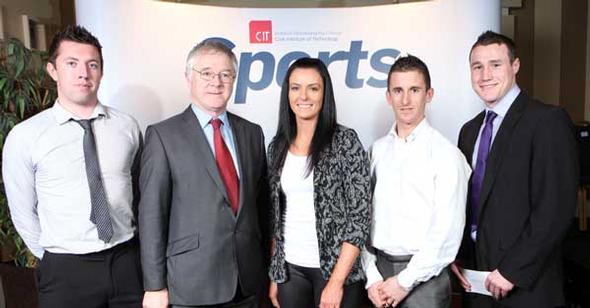 Football: Rory O'Sullivan and Mark Griffin,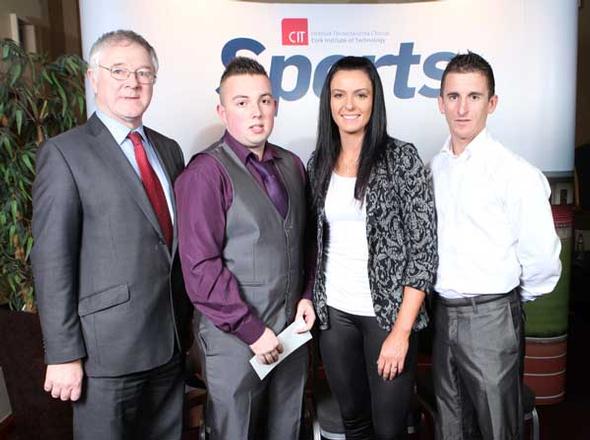 Table Tennis: Ian Brown.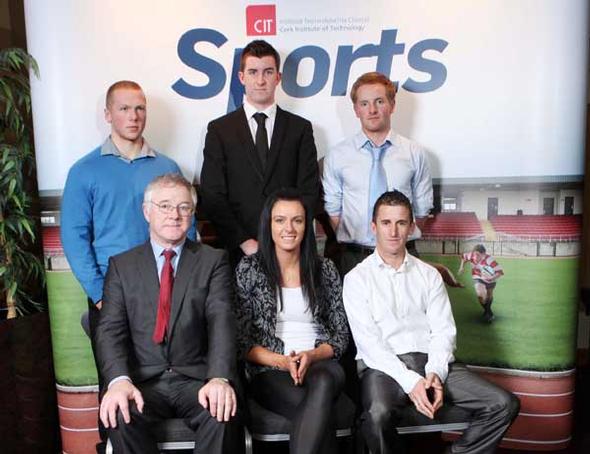 Powerlifting: Barry Piggot; and Golf: John Hickey and Ross O'Sullivan.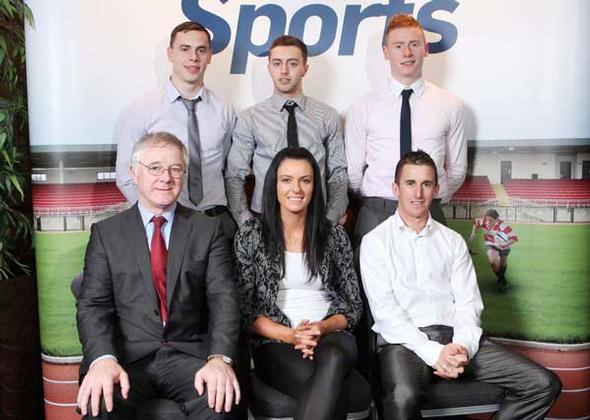 Soccer: Gavin McCarthy, Barry O'Sullivan, and Colum Nugent.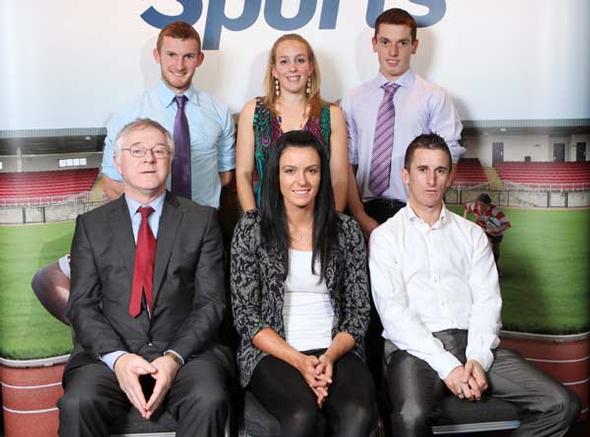 Rowing: Gary O'Donovan, Gillian Hosford, and Shane O'Driscoll.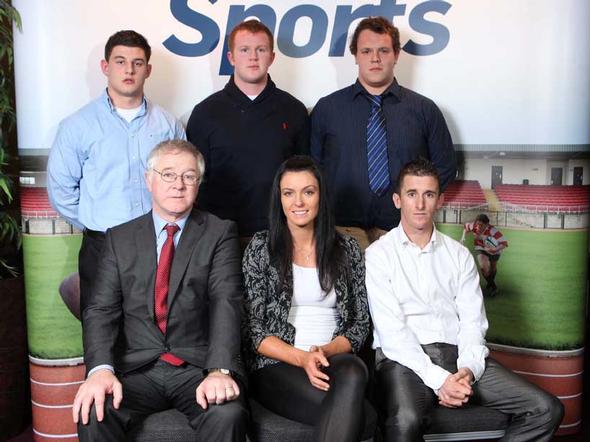 Rugby: Cian McGovern, Daniel O'Brien, and Coran Keane.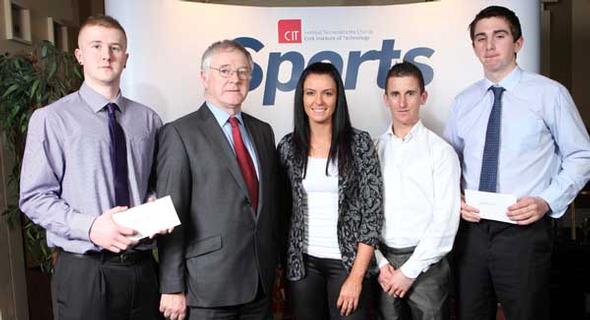 Basketball: Mark O'Leary and Ciarán O'Sullivan.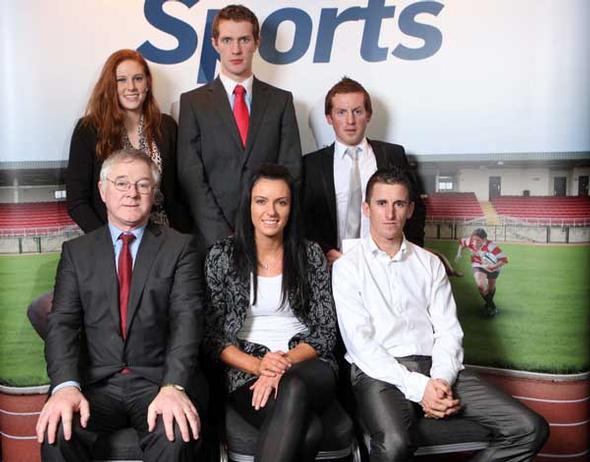 Athletics: Sinéad O'Connor and Thomas Houlihan; and Cycling: Paidí O'Brien.