Tables Turned at the Cork Vision @ St. Peter's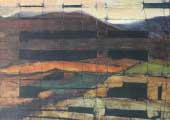 Published on: Wednesday, 02 January 2013
'Turning the Tables' will be officially launched on Friday 11th January 2013 by Artist Billy Foley at the Cork Vision Centre @ St. Peter's, North Main Street, Cork.
The exhibition will be open to the public from 2nd – 25th January 2013.
Opening Times: Tuesday - Saturday; 10am - 5pm
Cork Vision Centre's 2013 exhibition programme kicks off with an eclectic exhibition titled 'Turning the Tables' by the artgroup '7'.
With all members of the group working in some capacity or other as an Art educator, the artgroup 7 is a unique emergence of artists from diverse backgrounds, all with a desire to give voice to their own personal, unique expressions.
'We have a common belief that art and education are not mutually exclusive. Because creating art is often an isolated act that requires hard work, commitment and risk, we came together at a professional development teacher/artist group to advance our creative aspirations. This mutual self-development and ever changing journey culminates in a group exhibition'.
The artists in the group are; Daniel Sexton, Declan O'Marra, Evelyn Egan- Rainy, Mark Ewart, Sandra Norris, Tracy Cronin, and Zara McDaid. Each artist's personal style is reflected in the exhibition which will feature paintings, ceramics, and photography.
'The collection features Tracy's energy and flow in her semi abstract paintings; Sandra's love of nature shared by her altering of colour and texture in paint; Zara's bold and colourful acrylic paintings that celebrate the fashion world and modern life; the theme of pattern and colour in the fusion of abstract and realism in Evelyn's ceramics, Declan's personal work in contrasting mediums conveys his own vision; Mark's intimate paintings that hold a place of self and historical value within them and finally Daniel's narrative hybrid paintings of the common struggle between animal and man'.

Enquiries
Cork Vision Centre @ St. Peter's
North Main Street,
Cork
T 021- 4279925
E visioncentre@eircom.net
www.corkvisioncentre.com