Legendary photographer Terry O'Neill exhibits CIT Wandesford Quay Gallery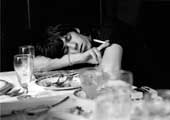 Published on: Tuesday, 05 February 2013
Terry O'Neill, brings a major exhibition of his work to Cork in January/February 2013. The show runs in two venues: CIT Wandesford Quay Gallery and Cork City Hall from 25th January to 22nd February. O'Neill was present at the opening at CIT Wandesford Quay Gallery on the 24th January.
O'Neill, who celebrates his 75th Birthday in 2013, began his career as a press photographer. He will forever be associated with London of the Swinging Sixties when he photographed the great and the good. Peter O'Toole and Richard Harris were counted in his circle of friends. The exhibition will feature a wide variety of his iconic portraits of the stars of that era, such as The Beatles, The Rolling Stones, Marianne Faithfull, and Michael Caine.
He later worked in Hollywood and was married to the Oscar Winning actress, Faye Dunaway. The exhibition also features his portraits of Frank Sinatra, Ava Gardner, Paul Newman, Steve McQueen, Sean Connery, Lee Marvin, Richard Burton and Elizabeth Taylor.
Other images in the show include O'Neill's intimate portraits of Mohammed Ali, Brigitte Bardot, David Bowie, Raquel Welch and Catherine Deneuve. Naomi Campbell, Amy Winehouse, Kate Moss and Bono are captured in some of the more recent work.
This is O'Neill's first time to exhibit in Cork and it is a very special event for him as he has deep connections with the city. His father was born and reared on Blarney Street and worked in Henry Ford & Son Ltd before transferring to its plant in Dagenham. On his retirement, he returned to Cork and is buried there. Visits to Cork were commonplace in his childhood. O'Neill's mother was from Waterford.
Terry O'Neill has produced several books of photographs. His latest, 'All About Bond', celebrates his long association with the James Bond franchise. He hosted a book signing in CIT Wandesford Quay Gallery on Friday 25th January. All prints featured in the exhibition are on sale.
O'Neill's exhibition in Cork is curated by Irish Examiner Arts Editor Marc O'Sullivan and arts writer and curator, Tina Darb O'Sullivan.
This exhibition is sponsored by The Irish Examiner, Whazon and The River Lee Hotel.