Cork Lifelong Learning Festival News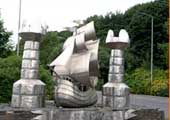 Published on: Monday, 07 January 2013
The 10th festival takes place from Monday 18th March (a Public Holiday) to Sunday 24th March.
The closing date for event details is Tuesday 14th January.

Email learningfestival@corkcity.ie for your form, or call Tina at 021 492 4527
- - - - - - - - - - - - - - - - - - - - - - - - - - - - - - - - - - - - - - - - - - - - - - - - - - - - - - - - - - - - - - - - - - - - - - - - - - - - - - - - - - - - - - - - - - - - - - - - - - - -
2013 marks the 10th year of our festival – and among special events organised to celebrate this milestone & to consolidate the festival's growing reputation worldwide is a Seminar with keynote speakers.

International visitors will be invited to contribute to and to experience events during the festival including a day-long seminar Cities of the Future: the EcCoWell approach. George Osborne, our guest from Australia introduced the EcCoWell concept or the Sustainable Opportunity City, at a presentation. The idea has been developed by PASCAL International Exchanges (PIE) the Observatory for Place Management, Social Capital and Learning Regions, which emerged from the work of OECD on lifelong learning – the festival represents Ireland on PIE. EcCoWell is about: - integrating strategies directed at a better life in cities across the areas of ecology, economy (Ec), community, culture (Co), well-being, lifelong learning (Well). In other words: - taking a holistic approach to policies which aim at building humane cities that foster quality of life and wellbeing for their residents.

Another special event is one exploring The Amalgamation of Education & Training Services & Access to them, and how that has worked in other countries.

More details to follow ...