CIT Creates Ireland's First Centre for Entrepreneurship Excellence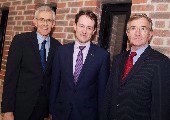 Published on: Tuesday, 29 January 2013
Cork Institute of Technology is delighted to announce the creation of its new Centre for Entrepreneurship Excellence, The Hincks Centre. In creating Ireland's first Centre of Entrepreneurship Excellence, CIT is extending its long-standing, strong, commitment to supporting the entrepreneurship drive at regional and national level. CIT intends to address a gap in Ireland's current ability to train and provide support to all stakeholder groups who support and nurture entrepreneurship. The Hincks Centre will also address some key gaps in current research on entrepreneurship in the Irish context and will utilise these outputs to inform national policy and strategy.

The Hincks Centre will be focused on three pillars of activity: training entrepreneurship support staff & entrepreneurs; research on entrepreneurship in Ireland with a view to informing national policy and education and accreditation of entrepreneurial educators. The combination of these strands of entrepreneurial focus will enable the further expansion of CIT's activity and will deliver even more added value to CIT's stakeholders.

Immediate priorities for the Centre include a ground-breaking new programme for upskilling staff in financial institutions to optimally support entrepreneurs across both start-ups and existing SMEs. The Hincks Centre will provide a novel programme dedicated to training staff in business incubators and enterprise support agencies. New research programmes will characterise the success and failure factors of start-ups, in the Irish context, in key areas such as sales and funding strategy. A "Train the Trainer" programme will be provided for lecturers and teachers of entrepreneurship. In addition to these new initiatives and existing activities, the Centre also plans to address the key emerging areas of Intrapreneurship and Spin-ins, Social Entrepreneurship and Entrepreneurship at Second level.

CIT is recognised as a key thought-leader at national level in entrepreneurship. This is evidenced by initiatives such as the appointment of Ireland's first Entrepreneur In Residence in 2010; the very successful Rubicon Centre for business incubation as well as its Prize for innovation Competition, run in conjunction with Cork County and City Enterprise boards, and the appointment of two Enterprise Interns within the Industry Liaison Office.

L-R Dr Brendan Murphy, President, CIT; Seán Sherlock TD, Minister of State for Research & Innovation; and Michael Delaney, Vice President for Development, CIT.
Photo: Neil Danton

Announcing the creation of CIT's Hincks Centre for Entrepreneurship Excellence, Minister Seán Sherlock, T.D., Minister of State with responsibility for Research & Innovation, welcomed CIT's initiative and said he was "personally familiar with CIT's reputation in this context, particularly the Rubicon Centre. Micro and small businesses are the engine of the Irish economy, and employ over 650,000 people. Given their importance we must ensure that we provide the necessary supports to stimulate entrepreneurship and create much needed jobs for this economy. Globally, leading entrepreneurial nations such as USA, Israel, UK and Nordic countries have utilised Centres of Entrepreneurship Excellence as a critical element of the entrepreneurial eco-system and I believe the Hincks Centre will play an important role in supporting entrepreneurship in Ireland."

The Hincks Centre will provide the focus necessary to harness the entrepreneurial efforts across the Institute, supporting and building on these synergistic relationships. The concept of this new Centre for Entrepreneurship Excellence is based on a strong track record of collaboration between the respective Departments in CIT, industry, the entrepreneurial community, and the Government Agencies that support these relationships and activities.

Gerard O'Donovan, CIT's head of School of Business said: "The establishment of the Hincks Centre for Entrepreneurship Excellence demonstrates CIT's commitment to this agenda and to the national job creation agenda. We believe this centre will be a significant support to growing entrepreneurship to a new level in Ireland and ensuring our entrepreneurship infrastructure can optimally support the growing level of entrepreneurs in Ireland."

Kieran Moynihan, CIT's Entrepreneur in Residence said: "As we look to entrepreneurship to form a key driver in our national recovery, the entrepreneurial support eco-system is a key foundation. The Hincks centre brings ground-breaking new capabilities to support the Irish entrepreneurial eco-system through new training/education programmes geared to support staff & educators as well as driving new practical-based research in Irish entrepreneurship to shape policies."

The Centre is named for The Rev. Thomas Dix Hincks, founder of the Royal Cork Institution in 1803. CIT, particularly its Science Faculty and its constituent schools at the Crawford College of Art and Design and the Cork School of Music can trace their origins back to the Royal Cork Institution.

Rev. Hincks proposed a society in Cork that would "contribute to and promote industry, economy and philanthropy". The Society would provide "labour for those who could not provide it for themselves". According to Hincks, the Society would "stimulate all to progress and perseverance in their courses of life, which will prove most useful and most beneficial to themselves and to their country". These sentiments are still relevant today and very much in accordance with the CIT's motivation to create The Hincks Centre for Entrepreneurship Excellence.