Focused on the Future: 10 Cork based Companies showcase at New Frontiers awards in CIT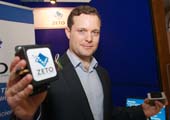 Published on: Thursday, 31 January 2013
Photos by Neil Danton, News Digital

Mr Seán Sherlock TD, Minister of State, Department of Enterprise, Jobs & Innovation and Department of Education & Skills with responsibility for Research & Innovation, launched 10 new companies at the inaugural New Frontiers Awards & Showcase, held in CIT on Monday 28 January 2013.
Congratulating the new companies, Minister Sherlock said: "Entrepreneurship is at the very heart of the Irish economy and in the challenging times we live in today, it's imperative for our future economic growth and innovation. In this very room tonight, I have witnessed true entrepreneurial spirit and steadfast determination - people with a passion for what they believe in and a dedication to make this a reality. Such are the businesses which will shape Ireland's future with the creation of high value and sustainable enterprises and employment opportunities. I wish you all every success as you continue to move your businesses forward and focus on the future."
The New Frontiers Programme, funded by Enterprise Ireland, is run in the Rubicon Centre, Ireland's largest business incubator. New Frontiers replaces the highly successful Genesis Enterprise Programme, which had helped over 220 business start-ups who went on to raise over €102m in public and private investment and created over 2,000 jobs in the region.
This year, 10 new companies completed the entrepreneurial programme representing a variety of industries – software, medical devices, marine, retail, health and safety, research, tourism, and internationally traded services. At the end of each year's programme, CIT and the Rubicon showcase the achievements of particular businesses in reaching commercial milestones, with Companies being recognised in an Awards ceremony.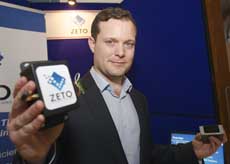 Stephen Slattery of Zeto was honoured with the Best Business Opportunity and Overall Winner of the New Frontiers Programme 2012/2013.The Zeto Platform save user's time and money as it is designed to alert users when their refrigeration equipment temperatures fall outside of the required range, by automating their compliance reports and by warning them of potential equipment failures before they occur. The award was presented by Enda McDonnell, Regional Manager, Enterprise Ireland.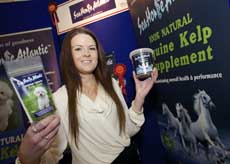 The Award for Best Market Opportunity went to Sarah O'Sullivan, SeaHorse Atlantic. SeaHorse Atlantic produces a range of exclusive kelp supplements from the Atlantic Ocean to horses, cats and dogs. The kelp is organically grown by aquaculture at a seaweed farm where it is manufactured by SeaHorse Atlantic into supplements in Castletownbere. Sarah's award was presented by Adrian Wall, Partner, RDJ Solicitors.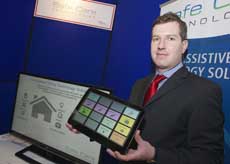 Winner of the Most Innovative Business Award was Conor Quigley, Safe Care Technologies. Safe Care Technologies provide solutions for the emerging assisted living market. The company creates software for existing hardware that allows the disabled, impaired or elderly live a more independent life within their home. This award was presented by John O'Doherty, Regional Director, AIB Bank.

The adjudication Panel for the 2012/2013 Award combined the experience of an established entrepreneur with seasoned professionals and was composed of John O'Doherty, Regional Director AIB; Claire Nash, Proprietor, Nash19; Ian Venner, Partner, Ernst & Young; Adrian Wall, Partner, RDJ Solicitor; and Conor Keane, Business Editor, Irish Examiner.
Over 200 people attended the New Frontiers Showcase & Awards drawn from the regional development bodies, current and past programme participants, venture capitalists, private investors, the higher education community, and the wider business community in the South West region.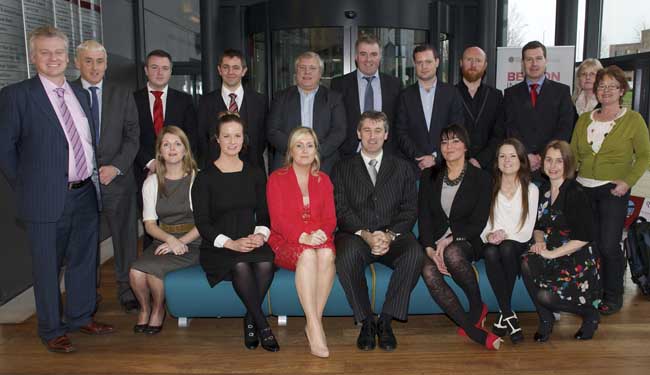 Paul Healy, General Manager of the Rubicon Centre also presented the 2013 Alumni Award to Pat Lucy, AspiraCon. This award is presented annually to an alumnus of the Rubicon Centre who has made substantial achievements in their commercial field or has contributed in a significant way to the economic development of knowledge-based businesses in the region. Pat Lucey and Colum Horgan set up AspiraCon in 2007 to exploit their extensive experience developing world-class Enterprise Software. They participated in the 2007/2008 Genesis Programme and were based at the Rubicon Centre for the first 3 years.
Over the last 6 years, AspiraCon has helped over 40 companies bring world-class software to market.They are now a leading provider of IT and Project Management Services in Ireland, competing with – and beating – major international brands.
Despite moving away from the Rubicon, AspiraCon continue to act as strong advocates for the Entrepreneurial activities underway and are regular contributors to the New Frontiers program, where the founders share their experiences to date and offer some advice to new start-ups.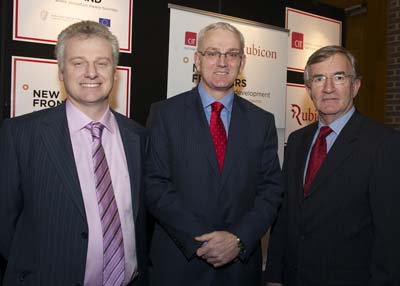 The 2012/ 2013 New Frontiers Showcase and Awards are supported through sponsorship from Cork Institute of Technology, Enterprise Ireland, Cork County & City Enterprise Boards, AIB, Ernst & Young, and Ronan Daly Jermyn. Media partner for the Event was Thomas Crosbie Holdings.
Pictured left to right: Kieran Moynihan, Entrepreneur in Residence, CIT; John O'Doherty, AIB, sponsors; and Michael Delaney, Vice President for Development, CIT; at the inaugural New Frontiers Awards & Showcase.
The new 2013/2014 Programme is now recruiting for entrepreneurs. Each applicant on the New Frontiers programme receive a variety supports to the value of €36,000 approx. Applications can be made online by visiting www.rubiconcentre.ie or tel (021) 4928900.