Over €1,000 raised for Solar Power in Malawi Hospital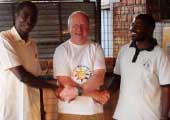 Published on: Thursday, 07 February 2013

On the 5th February, over €1,000 was raised by IMERC at a table quiz in aid of Solar Without Frontiers, a charitable foundation committed to introducing solar technologies in developing countries to save lives. The money will be used to fund a solar installation at the Mulanje Mission Hospital in Malawi.

The event was the result of a joint effort headed by Lieutenant Mike Brunicardi of the Irish Maritime and Energy Research Cluster (IMERC) based in Ringaskiddy, and Solar Without Frontiers. IMERC is a joint initiative of the Cork Institute of Technology, the Irish Naval Service and University College cork whose vision is to promote Ireland as a world-renowned research and development location.
The quiz was a resounding success with sixteen teams and over eighty people filling The Monkstown Inn, Monkstown, Co. Cork. The money raised on the night will go towards covering the travel costs for Solar Without Frontiers volunteers, who later this month shall travel to Malawi to install a solar power system at the Mulanje Mission Hospital. The cost of this travel is €4,000 and volunteers shall be taking unpaid leave in order to travel as well as providing their services for free.
One of the volunteers, John Walsh, an energy engineer with Cork County Council said, "The first priority is provision of lights and power to the paediatric ward and maternity department. Once the installation is complete the Mulanje Mission Hospital will no longer suffer daily blackouts and we will have directly assisted in reduction of the infant mortality rate."
Lt Mike Brunicardi added, "It is a huge honour for IMERC to assist Solar Without Frontiers with such an important and beneficial project. Ireland has a lot of engineering and scientific expertise in the renewable energy industry and it is heartening to see it being deployed where it is sorely needed." IMERC and Solar Without Frontiers extend a final thank you to all the people who made the event a resounding success. Lives will be saved as a direct result of the contributions made by everybody involved. The medical team at Mulanje Mission Hospital in Malawai extended congratulations to the partnership. This solar installation project will help to save lives by providing a secure power supply to frontline services at the hospital.
Should you wish to donate to the worthy cause, please visit www.solarwithoutfrontiers.com and click on 'Donate Online'.
For information on IMERC go to www.imerc.ie or contact Cormac Mc Garry & Ciarán McCarthy – admin@imerc.ie.
The success of the night saw a grand total of €1,011 being raised. The prize for the winning team was €100 cash and many others won generously sponsored spot prizes . Many thanks to The Monkstown Inn for their hospitality and for donating a spot prize, The Monk Fish and Chips who provided finger food, Barry Collins Super Value of Carrigaline who donated a generous hamper, Leisureworld Bishopstown who provided two free passes, Murray & Associates Naval Architects who contributed towards the event, and numerous individuals who donated spot prizes.