Registrar's Prize Winner artist Norma Walsh debut solo exhibition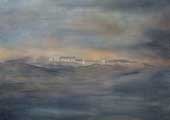 Published on: Monday, 25 February 2013
Registrar's Prize Winner artist Norma Walsh's debut solo exhibition opened on Wednesday 27th February and runs until the 27th March.
James Barry Exhibition Centre, CIT Bishopstown Campus.
ARTIST'S STATEMENT
Soundings in Fathoms
The expression Soundings in Fathoms comes from old survey maps dating back to 1853 and describes how the depth of the sea was measured around our coastline. These maps are still in use today providing invaluable information for sailors and fishermen who brave the Atlantic.
Much of this body of work is inspired by the western seaboard, particularly West Cork. Pervading atmospheres imposed by the physical world are a constant source of inspiration for me. I always carry a camera but also find it necessary to quickly sketch or even blind draw or paint, documenting fleeting moments that can suddenly present themselves in the western landscape. I re-connect with the recorded subject matter by incorporating specific colour, shapes and objects into my work and sources that imply nature's supremacy over human fragility.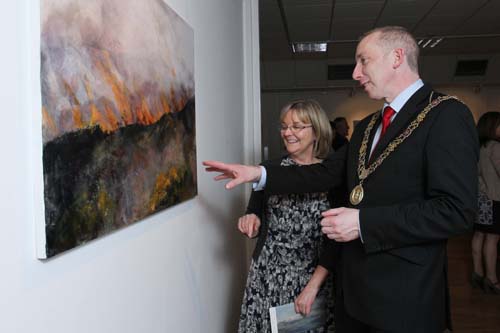 Norma Walsh with Lord Mayor Cllr John Buttimer.