Event: Kick Start a Healthier Life with CIT's first 5k Fun Walk & Run
Wednesday, 06 March 2013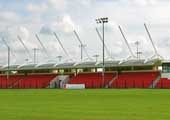 CIT Sports Office is taking public health action and organising its first ever 5k Fun Walk & Run. The event is open to students and staff. It will take place on Wednesday, 6th March at 12.30pm.
This first time physical activity initiative will start and finish on CIT Athletics Track. The route will take participants around the Bishopstown campus, along the banks of the Curragheen River and back to finish in front of CIT's top class track stadium, where music and a party atmosphere are guaranteed.
The event is aimed at getting CIT students & staff active and kick start a healthier life. Being active for at least 30 minutes, 5 days of the week can help adults to be healthier in both body and mind. Regular physical activity will improve your health and well-being as well as reduce the risk of developing chronic illness.
CIT President Dr Brendan J. Murphy is encouraging all students and staff to get involved, "The Institute is extremely proud to be able to hold its first ever 5k walk/run on campus. It is a great opportunity to challenge your friends, team members, and colleagues in a fun, mass participation event."
Don't delay, start preparing today for what promises to be a fun event with a real carnival atmosphere! To aid with preparation for the event "Meet & Train" walking and jogging groups led by CIT students meet every Tuesday at 5pm at the CIT track gate.
Students & staff will also be rewarded for taking part:

The 1st 100 participants who enter on the day will receive a free CIT fit for purpose t-shirt!
Spot prizes will be awarded for best fancy dress outfit and for participants 50, 100, 150, 200 & 250 to cross the finish line. Prizes include €50 Brown Thomas voucher, €25 Eason's voucher, CIT Merchandise and many more!