CIT signs contract with BAM Construction for €4m CREATE Centre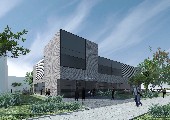 Published on: Saturday, 02 March 2013
The official signing of the contract for the construction of a new state-of-the-art research CREATE building at Cork Institute of Technology has taken place. The contract was signed by CIT President, Dr Brendan Murphy, and by Mr Theo Cullinane on behalf of BAM Construction, the main contractors. The building was designed by RKD Architects. Construction will take 12 months and will create 70 construction jobs.
The new research building, known as CREATE – the Centre for Research in Advanced Therapeutic Engineering – is funded through the Higher Education Authority under the Programme for Research in Third Level Institutions, Cycle 5. The CREATE building will occupy some 1600m2 over two stories and will provide space for more than 60 researchers and their academic and business partners, at a cost of over €4m. Key partners in the project include University College Cork, Tyndall National Institute, Teagasc (Moorepark) and Cork University Hospital.
CREATE's research focus is in the arena of translational health research and combines the three complementary areas of biosciences, biomedical technologies and advanced bio-imaging to drive research in Advanced Therapeutic Engineering. It will facilitate a more blended approach to solving real world problems specifically in relation to public health. It will improve disease diagnosis and stimulate the discovery of new and more effective medicines through innovative approaches provided by interdisciplinary teams of scientists with specialisations in physics, chemistry, biology and biomedical engineering.
CIT Vice President for Development, Michael Delaney, commented: "The multidisciplinary nature of this new research environment will drive excellent scientific discovery, and the transfer of that discovery to new and improved applications, and to the generation of patents, licenses and startup companies in the region and nationally.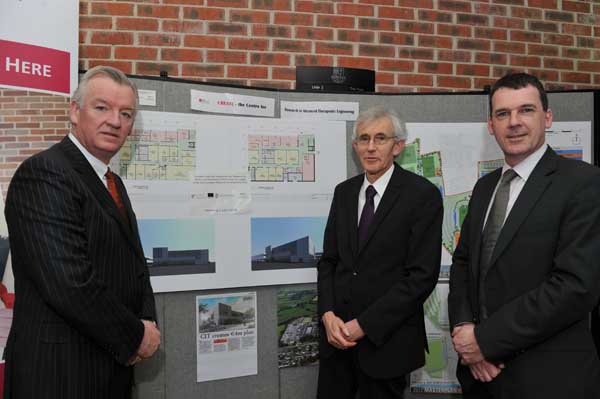 Theo Cullinane MD, Bam Construction, Dr Brendan Murphy, President, CIT, and Dr Niall Smith, Head of Research, CIT, at the official signing of the contract for the construction of a new state-of-the-art research CREATE building at Cork Institute of Technology.
Photo: Barry O'Sullivan