CIT Rísam PhD Scholarships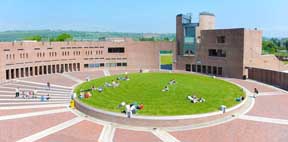 Published on: Friday, 22 March 2013

CIT is delighted to announce the Rísam Scholarship Programme 2013 for high-achieving postgraduate research students undertaking PhDs.
The Irish word Rísam, meaning to strive or achieve, underlines the purpose of this scholarship programme which is to promote high-end research directed towards the generation of new knowledge or original applications of existing knowledge. The Rísam Scholarships are awarded on a competitive basis for research proposals aligned with CIT's Research Prioritisation thematic areas.
The main research activities are currently centered on four clusters that reflect the dominant strategic research strengths and critical mass at CIT: BioExplore (Biological Sciences; Chemistry; Biomedical Engineering); Nimbus (Electronic Engineering; Computing); Photonics (Applied Physics & Instrumentation) and Energy & Sustainable Environment (Civil, Structural & Environmental Engineering; Mechanical Engineering; Marine; Architecture).
Further information on these and on research opportunities in Business, Humanities, Social Care, Music and Art is available at www.cit.ie/graduateschool.
The online application form and the full Terms and Conditions can be downloaded at www.cit.ie/risam.
The closing date for applications is April 30th, 2013.