Dept. of Tourism & Hospitality links final year students with industry demand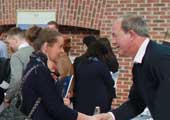 Published on: Thursday, 14 March 2013
Over 30 industry representatives from areas such as Hotels, Visitor Centres, Restaurants, Bar Groups, Travel Agents and Resorts from Cork, Kerry, and Clare attended a career event today in the Department of Tourism & Hospitality at the CIT Bishopstown Campus to meet with the 250 students who will be entering the jobs market later this year. The event took place over a two hour period and the employers accepted CVs, answered questions regarding their properties, and carried out interviews with potential employees.
The students will be entering into the workplace to fill the gaps in demand by these sectors as employment opportunities increase. Mr Adrian Gregan, Head of the Department of Tourism & Hospitality commented that "our students are among the most work-ready students that come out of any discipline and expect to contribute fully in the coming years."
During the course of their studies, many students have already gone out into the workplace on placements and are an essential part of the staffing structure, meeting the seasonal demands across the region. Many of the students who attended today's event will graduate later this year and will be looking to start in their first full-time position. The aim of today's event was to facilitate both the student and the employer in filling their employment needs.
Exhibitors at today's event included the Clarion Group, Soho Bar, the Market Lane Restaurant, the Cliff House Hotel, Dromoland Castle, USIT, Blarney Castle, and the Castlemartyr Resort. Mr Aaron Mansworth, GM of the Cork International Hotel and Hon. Secretary of the Cork Branch of the Irish Hotels Federation commented "I was delighted to have been able to meet with students who are focused on their future careers and hope to fill a number of employment vacancies in our expanding business as a result of this important event."
The Department of Tourism and Hospitality currently has 750 students based in a modern building on the Bishopstown Campus and encompasses the areas of Hospitality Management, Tourism, Culinary Arts & Studies, and Bar Management.