CIT hosts IBEC's South Regional Executive Committee Meeting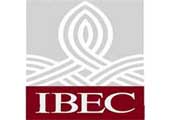 Published on: Thursday, 21 March 2013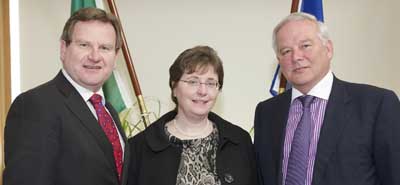 Danny McCoy, IBEC President; Dr Irene Sheridan, Head of Extended Campus, CIT; and Brendan Keating, IBEC South REC President.
On Thursday 21st March, 2013 CIT hosted IBEC's South Regional Executive Committee (REC) meeting. The Cork REC is the key driver of the IBEC regional business agenda. The committee meets 4-5 times throughout the year to discuss national and regional issues of importance to the business community and to contribute to IBEC's policy formation. The current President of the IBEC South REC is Brendan Keating, Chief Executive Officer, Port of Cork. Danny McCoy, IBEC's President, presented IBEC's new strategy to over 30 IBEC members in attendance.

A presentation was also made by Dr Irene Sheridan (Head of CIT Extended Campus) on the work and objectives of CIT Extended Campus (www.cit.ie/extendedcampus). In her presentation, Dr Sheridan outlined the key role played by CIT in driving and contributing to national policy on higher education engagement. CIT Extended Campus opened in November 2011. It was set up to create and support collaboration between CIT and enterprise. Through hosting IBEC's South Regional Executive Committee, CIT had the opportunity to showcase the breadth of engagement occurring with enterprise throughout CIT and to strengthen CIT's link with enterprise in the region.


(Seated): Bob Savage, EMC; Brendan Keating, Port of Cork; Joan Power, Irish Blood Transfusion Service; and Noel Keeley, Musgrave Group.
(Standing): Jim Costello, South Western Business Process Services; Padraig Mallon, IGDB; Paula O'Dwyer, IBEC; Michael Delaney, CIT; Danny McCoy, IBEC; Michael John Hennebry, GW Biggs; David Ronayne, Irish Mainport Holdings; Irene Sheridan, CIT; Annette Graepels, Graepels; and Peter O'Shaughnessy, IBEC; at the IBEC South Regional Executive Committee meeting.

Photos by Neil Danton, Newsdigital.