CIT Cork School of Music hosts European Collaborative Project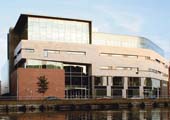 Published on: Thursday, 21 March 2013
CIT Cork School of Music is proud to announce the hosting of an exciting Erasmus Intensive Programme: "Interdisciplinary Involvement and Community Spaces" (IICS). This European project will bring together students and staff from ten different countries to participate in an intensive collaboration over the course of ten days from 24th April until 3rd May 2013.
IICS aims to create an interdisciplinary environment where students can use their skills in new ways to interact with peers from other disciplines to develop an artistic production through actively engaging with the local community. In this way, the social dimension of the collaboration is enhanced and interesting new connections are established between creative artists, communities and audiences.
Thirty higher education students, selected from a wide variety of disciplines (including music, theatre, film, dance, fine arts, architecture, design, media, technology, communication, and social sciences) and ten lecturers from ten European cities, (Berlin, Birmingham, Bratislava, Cork, Gothenburg, Izmir, Porto, Verona, Vilnius, and Vienna) will take part in the project.
IICS (pronounced "ICE") is a three-year artistic project financed by the European Commission and coordinated by the University of Gothenburg's Academy of Music & Drama. The successful first instalment of IICS took place in Gothenburg during 2012. The second part is taking place in Cork, and the third will take place in Izmir, Turkey during 2014.
The students and lecturers will spend ten days in Cork actively collaborating with communities as quasi "Artists-in-Residence", eventually producing an piece of artistic work. The very nature of the outcome will depend on the mix of skills and ideas shared by the students and the communities. There are a total of six local communities that will be collaborating with six teams of students as part of the IICS project in Cork: Cork's Bus Station, The National Sculpture Factory, The Oval Bar, St Finbarre's Hospital Care Centre, Meitheal Mara and Civic Trust House House.
The achievements of the individual projects will be open to the public on Thursday 2 May 2013.