CIT Announces 2013 Project Manager of the Year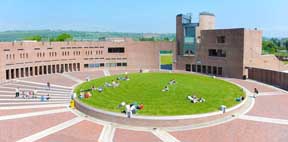 Published on: Tuesday, 26 March 2013
Cork Institute of Technology CAMMS Centre (Centre for Advanced Manufacturing and Management Systems, www.camms.ie) has announced the Project Management Student of the Year at the annual CIT Diploma in Project Management Awards Ceremony. The award took place in the "Vertigo" suite of County Hall, Cork with a mix of representatives from academia and from companies spanning a range of industries.
CIT has focussed on developing its Diploma in Project Management since 2010 and has collaborated with experts in academia and industry, linking the course with the Project Management Institute® which is the largest professional body for Project Managers worldwide.
The winner of the main award for 2013 was announced as Kevin Cunningham who works for Pfizer in Cork. Kevin was selected as winner based on his academic performance across all disciplines of Project Management and on the manner in which he applied those good practices in the workplace.
Presenting the trophy was Colum Horgan, Director of Operations of AspiraCon, the Irish Project Management specialist firm who sponsored the award. Mr Horgan said "as President of the PMI Ireland Chapter, I want to congratulate Kevin and acknowledge the excellent performance that was demonstrated by participants in the Diploma in Project Management course offered by CIT. The PMI encourages collaboration between academia and industry and CIT is leading the way in offering PM courses that focus on industry certification while also delivering academic credits towards Degree or Masters level qualifications."

CIT CAMMS Centre Manager, Daithí Fallon, said "CIT has used a number of experts from within the Institute and from across industry to develop what it believes to be a Best-in-Class offering in the area of Project Management. I am delighted to recognise the success of Kevin and his colleagues in successfully completing their studies and receiving their Diplomas. The CIT Diploma in Project Management experience is an example of how close collaboration between CIT Academic experts in Project Management and the key industry practitioners, working together can yield benefits for all concerned, but particularly for the students. Mr Fallon went on to provide details of the latest CIT offering, "Certificate in ICT Project Management " which is a 10-day programme designed to prepare ICT professionals to move into a Project Management role and which will also play a key role in preparing Project Managers from other disciplines to move into the vibrant IT sector.
For more information on the CIT Diploma in Project Management: www.cit.ie/course/CR_EPMAN_8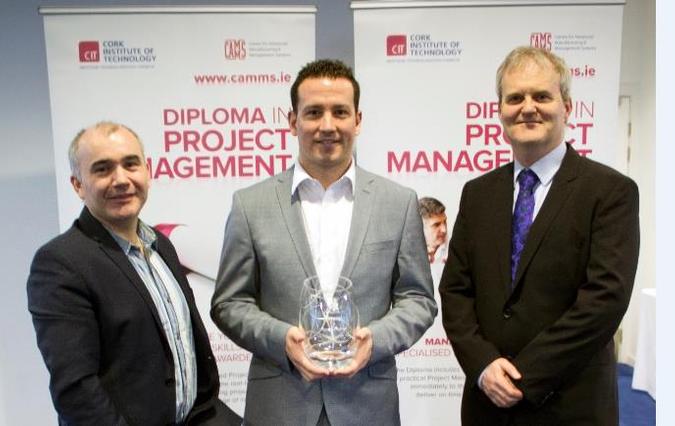 Colum Horgan, AspiraCon and President Ireland Chapter PMI, Kevin Cunningham recipient of 2013 CIT Diploma in Project Management Student of the Year award, Daithí Fallon, CIT