150 projects will showcase at SciFest 2013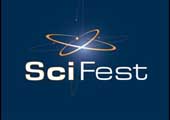 Published on: Wednesday, 17 April 2013
useful links
Schedule of Events
Listing of Participating Schools and Projects
www.scifest.ie

"Do video games help dyslexia?", "Revision Precision", "Tri-Crutch: The Future of Rehabilitation" and "Teenage awareness of Sudden Cardiac Death among sport athletics", just some of the project ideas being presented at SciFest 2013 which will take place at CIT Bishopstown Campus on Friday, 19th April. This year's event will showcase 150 projects being exhibited by 320 second-level school students ranging from 1st Year - 5th Year, and from 25 schools across Cork City and County. The event will be opened by Minister for Research & Innovation, Minister Seán Sherlock T.D.

The inaugural SciFest was held in the Institute of Technology, Tallaght, Dublin, in 2006 and SciFest was launched nationwide in 2008. SciFest is a national festival of science organised regionally in collaboration with the Institutes of Technology and is open to all second level students. SciFest was created to provide an additional forum for students to present and display the results of their scientific investigations, following the success of the BT Young Scientist and Technology exhibition which has been running very successfully for over forty years.

Commenting on SciFest at CIT, Sheila Porter, CEO SciFest Ltd, said, "SciFest is a fun and exciting way to encourage an interest in science at school level, providing not only an occasion to celebrate achievement and a job well done but also an opportunity to encourage active and collaborative learning. This helps stimulate students' interest in science and enables then to apply scientific concepts to real-life scenarios."

"SciFest continues to go from strength to strength with a record number of entries this year. The rapid increase in participation in the competition is a clear indication of the interest and enthusiasm among students and teachers in the investigative approach to teaching and learning science. I would like to thank all of our partners including Science Foundation Ireland, Discover Science & Engineering, Intel, Newstalk, PharmaChemical Ireland, Abbott Ireland, SEAI, NCE-MSTL, ESERO Ireland, RSC, Janssen Pharmaceuticals and the Institutes of Technology. Without their support, none of this would be possible," Porter added.

Dr Hugh McGlynn, Head of CIT School of Science & Informatics said "SciFest encourages student of all abilities to participate in a science fair and experience what it is like to be a professional research scientist and to develop an interest in science through inquiry and activities that link to their everyday lives. Students are given an opportunity to develop 21st century skills such as critical thinking, problem solving, creativity, presentation and collaboration. In addition, they get a chance to visit CIT and view the excellent facilities and courses that the Institute has to offer."

As part of SciFest, the following awards will be presented on the day by Dr Barry O'Connor, Registrar & Vice President of Academic Affairs, CIT.
SFI/Discover Science and Engineering Best Project Award
Intel Award
Abbott Runner-up Best Project Award
Newstalk Best Communicator Award
PharmaChemical Ireland Chemistry Award
NCE-MSTL Maths in Science Award
European Space Education Resource Office (ESERO) Award
Sustainable Energy (SEAI) Award
Discover Space Award (ESERO Ireland) Award
additional Awards will also be presented by Munster Rugby and CIT.
The Intel Award winners from Cork will be invited to exhibit at Intel (Dublin) in the autumn from which one project will be selected to win an all expense trip to represent Ireland at the International Science and Engineering Fair 2014 in the USA.

Enquiries:
Dr Hugh McGlynn
Head, School of Science & Informatics
E: hugh.mcglynn@cit.ie
T: + 353 021 433 5400