Building Regulatory Engineering Course > Applications now open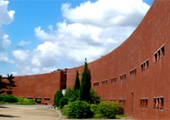 Published on: Monday, 08 April 2013
The Department of Civil, Structural and Environmental Engineering is running a 5 Credit CPD Course in Building Regulatory Engineering (including Fire Certificate & Disability Access Certificate processes).
Four week Course (May/June 2013), Class held Friday evenings (after 6.00pm) and Saturdays.
The course fee is €495 which includes all course notes and exam/assessment fees.

Deadline Wednesday 1st May 2013.
Detailed information: www.cit.ie/course/CRCBREG8