Robert Nolan wins the "Best Technology Enabled Solution" award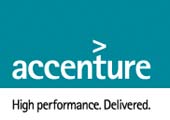 Published on: Friday, 12 April 2013
On the 11th April, CIT's Robert Nolan (MSc in Cloud Computing 2013) was awarded the "Best Technology Enabled Solution" in the Accenture Leaders of Tomorrow Award ceremony held in Dublin.
Pictured below is (L-R) Mark Ryan, Country Managing Director, Accenture Ireland with Robert Nolan.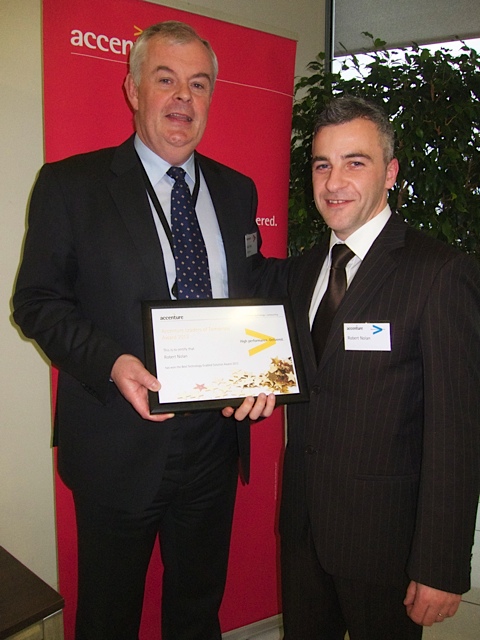 The Accenture Leaders of Tomorrow Award aims to identify, foster and recognise leadership potential and innovative thinking amongst Irish graduates. The Award is designed to nurture and develop innovative ideas or concepts which may positively impact some of the challenges facing Ireland today.
Open to third level university graduates across the country, the Accenture Leaders of Tomorrow Award seeks to develop the next generation of talent that will help in shaping the public, private and social landscape of Ireland in coming years.
The Award is structured as a competition of three rounds where participants
Explore the central topics of leadership, entrepreneurship and innovation
Submit an idea or concept which will be developed through the competition into a viable business concept
Interact with likeminded participants
Identify and develop their own leadership attributes through a number of leadership development days which will include guest speakers and one-to one mentoring
Present their developed idea to a panel of Irish business leaders
The overall winner will take part in the Accenture Leadership Experience Tour, including a trip to some of Accenture's global innovation centres to meet a number of business leaders and an Idea Incubation Internship with Accenture to develop their business idea as well as engage in real life client projects and further develop, enhance and demonstrate their leadership skills.