New Support for Female Entrepreneurship Programme @ CIT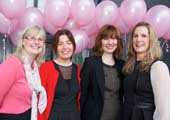 Published on: Tuesday, 16 April 2013

Further Information is available on the PINC Programme
Questions posed to CIT Rubicon Centre in 2010
Is something gender specific required to encourage female entrepreneurs?
could something be done to help females take up the challenge?
In an effort to provide an answer to these questions, in 2011 the first PINC Programme was launched and immediately it was clear that large numbers of women had viable ideas and needed the support provided to get going.

Since then more than eighty Female Entrepreneurs have launched their new ventures using the PINC Programme as their platform.

The ideas and ventures are diverse and all participants wanted to work together to make sure that they all succeeded. Getting their first customers and some finance was top of the to-do list. Today, with the help of a full team of mentors and trainers at the Rubicon Centre, they can start to do that. Participants can also make use of the supports on the CIT Campus and agencies such as City and County Enterprise Boards, City and County Council,s and Enterprise Ireland. AIB already works with the Rubicon Centre's Entrepreneurs and Cork City Council are now adding their support to the PINC Programme. This latest move will allow the Rubicon Centre and CIT to continue its work to ensure that as much as possible is done to encourage Female Entrepreneurs.

On joining the partnership, Pat Ledwidge, Head of EconomicDevelopment at Cork City Council said "Cork City Council recognises the importance of untapped potential Female Entrepreneurs in the economic life of the City and working with the Rubicon Centre we hope to make it easier for them either to take the plunge in business or to develop their existing enterprises."
Noreen Walsh, Regional Business Banking Manager, AIB; Ruth Buckley, head of ICT, Cork City Council; Josette O'Mullane, Industrial Liaison Manager, CIT; and Marguerite O'Donovan, Retail Manager, AIB, 66 South Mall, Cork; at the announcement of new support for female entrepreneurship programme at CIT.
Photo: Neil Danton; Newsdigital

Commenting on this new addition to the PINC Programme, Noreen Walsh of AIB said "Female Entrepreneurship is an important part of our supports to SMEs in Cork. Already we have assisted high calibre Female Entrepreneurs in the Rubicon Centre. AIB have worked closely with Rubicon Centre Companies since 2010, helping them by providing finance as part of their overall finance requirements."

Last month, fourteen Female Entrepreneurs successful pitched their ideas for a chance to join the PINC Programme. In June they will showcase what they have to offer. It does not stop there, because these PINC Entrepreneurs will continue helping each other on their way and encouraging others to follow. "With the help of our partners the Rubicon Centre will offer new PINC places to Female Entrepreneurs in September 2013 and look forward to seeing more exciting opportunities come to market in 2013" said Paul Healy of the Rubicon Centre in CIT.