CSM graduate sweeps the boards!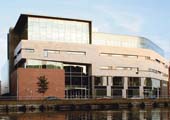 Published on: Thursday, 25 April 2013
CIT Cork School of Music graduate, soprano Kelley Lonergan, from Clonmel, Co. Tipperary, has been awarded the €10,000 RDS Music Bursary following her successes in Electric Ireland Feis Ceoil 2013. (During Feis Ceoil 2013, Kelley won the Mrs. P. J. Geoghegan Memorial Cup & Gus Smith €1,000 Award, Cuisine de France Count John McCormack €5,000 Vocal Bursary and the Gervase Elwes Memorial Cup & Business Plus €2,500 Bursary.)
The RDS Music Bursary is one of the largest single bursaries on offer to a young musician in Ireland and is open to both vocalists and instrumentalists. The opportunity to apply for this bursary is offered to winners of selected senior competitions in the ESB Electric Ireland Feis Ceoil. This year, in addition to the €10,000 RDS Music Bursary, Kelley will also be offered a solo engagement with the RTÉ National Symphony Orchestra during its 2013-14 season.
Kelley, is currently a Masters student in Performance at the Cork School of Music and graduated from the BMus course in 2010 with First-Class honours. She is a past student of Jan Cap (piano), Mary MacSweeney (singing) and Dr Gabriela Mayer (piano accompaniment).
With the help of the RDS Music Bursary, Kelley, who is currently also a Young Associate Artist with Opera Theatre Company, intends to continue her singing studies, avail of master classes and coaching internationally. She intends to audition for a number of Opera Studios in London and Europe, as well as taking language lessons in German, French and Italian.
Congratulations, Kelley!